New York State Assembly Member Expresses Support for Practitioners' Efforts to Rescue Their Parents in China (Photos)
August 22, 2008 | By a practitioner in New York
(Clearwisdom.net) On August 19, Falun Gong practitioners Shuangrong Zhang and Annie Li held a press conference in the New York State Assembly newsroom to call for the rescue of their aged parents, who are imprisoned by the CCP under the pretext of the Olympics. New York State Assembly member Tim Gordon and Director Devin Lander of the New York Legislation and Policy Office gave speeches to express their support.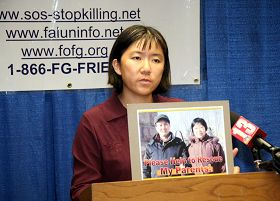 Shuangrong Zhang, who lives in Flushing, calls for rescuing her parents imprisoned by the CCP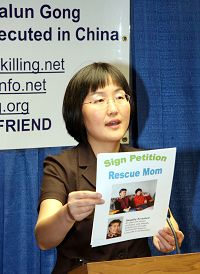 Annie Li from Albany, New York calls for rescuing her mother detained by the CCP
Annie Li from Albany, New York called for the rescue of her mother Qin Shizhen, a 67-year-old retired Associate Professor. She said her mother has been detained in the Gengjiawan Brainwashing Center in Lanzhou, Gansu Province since May 24, 2008 for practicing Falun Gong. The CCP made the arrest under the pretext of preparing for the Olympics. The Gengjiawan Brainwashing Center is also named the Lanzhou Law Training School and was opened in December, 2001. It is a base in Gansu Province for persecuting Falun Gong practitioners. Many Falun Gong practitioners have been tortured to death or to disability here. Forty-eight-year-old Liu Zhifang was tortured to death after being detained for one month.
Annie said, "My mother has been detained for more than three months. I worry about her a lot. Under the pretext of the Olympics, the Chinese Communist Party (CCP) has arrested more than 2,500 practitioners unlawfully. I demand that the CCP immediately release my mother and all practitioners who are unlawfully imprisoned."
Ms. Shuangrong Zhang from Flushing, New York, has not seen her parents for fifteen years. In the beginning of July, her father Zhang Xongwu, a 67-year-old retired physics professor, was taken away by police in Jinan, Shandong Province. His current situation is unknown. Her mother Liu Pinjie has been taken away twice since July. Ms. Zhang urgently called for help from the international community.
Ms. Zhang said, "On July 8, more than twenty police officers forcefully pried open a burglar-proof door and entered my parents' home without any legal procedures. They took away all they could and detained my parents. After such harassment, my mother had a severe stroke and was paralyzed in the detention center. Police were afraid, and asked my brother to pay 10,000 yuan (about $1400) and released my mother. But in the beginning of August, the police arrested her again. My father has been detained in the Jinan Detention Center."
Pang Jin, studying for her MBA at Missouri State University, was not able to attend the press conference. She asked her friend to speak out for her parents. On July 29, 2008, one week before the Beijing Olympics, more than a dozen police forcefully entered her parents' home without any legal procedures and took them away. They also took away three laptops and two desktop computers, one digital camera, and a bank deposit certificate worth more than seven thousand US dollars. Her mother is a Falun Gong practitioner, but her father is not. The police detained her father in order to intimidate her mother.
Director Devin Lander of the New York Legislation and Policy Office said that this was a serious issue. He said he came here to express his support and see how to help solve this issue.
New York State Assembly member Tim Gordon said he heard that family members of several U.S. citizens in New York were arrested in China. China spends lots of money to show the new China in 21st century to the world, but has done wrong by infringing upon human rights. China should let Annie's mother make contact with her and come to America if China is really interested in impressing people. Otherwise, nothing has changed, however many stadiums China has built.
At the press conference, Judy Chen from Flushing also told of her suffering from the CCP's violent attacks in the past three months.
NBC TV Albany paid attention to this issue and interviewed three victims of the CCP-instigated assaults in Flushing. It broadcast the two practitioners' call for rescuing their parents and also the assaults against Falun Gong practitioners in Flushing on the same night at different times. Reporters from a well-known local daily newspaper, The Gazette, attended the press conference and filed reports.