New York State Assemblyman Calls for Release of Practitioners' Family Members Arrested in China (Photos)
August 21, 2008 | By a practitioner in New York
(Clearwisdom.net) At noon on August 18, 2008, New York State Assemblyman Karim Camara hosted a press conference in front of the Chinese Consulate General in New York and demanded that the Chinese Communist regime immediately release New York residents' family members who have been illegally detained using the pretext of the Olympics.
New York City Council Member David Yassky and human rights activist Herbert Daughtry also spoke at the press conference. They condemned the Chinese Communist regime for taking advantage of the Olympics, breaking its promise to the international community and intensifying its persecution of Falun Gong practitioners who follow the principles of Truthfulness-Compassion-Forbearance. They urged the Chinese Communist regime to immediately release all arrested practitioners.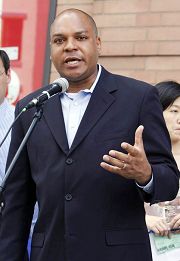 New York State Assemblyman Karim Camara
New York City Council Member David Yassky from Brooklyn speaks at press conference
Herbert Daughtry condemns the Chinese Communist regime for arresting Falun Gong practitioners' relatives
Zhang Shuangying ( 2nd on the Right), Flushing resident, recounts how the Chinese Communist regime persecuted her parents
Nine-year-old Zhang Zhishuo misses her mother who has been illegally detained by the Chinese Communist regime
Annie Lee, who lives in Albany, the capital of New York, asked New York State Assemblyman Karim Camara to help rescue her mother who has been illegally detained by the Chinese Communist regime.
Her mother, Ms. Qin Shizhen, is a 67- year-old retired associate professor. Ms. Qin was sent to the Gongjiawan Brainwashing Center in Lanzhou City, Gansu Province on May 24, in the run up to the Olympic Games.
The brainwashing center has another name, and is known as Lanzhou City Law Training School to outsiders. It is an old warehouse located at No 136, Gongjiaping North Road, Qilihe District, Lanzhou City. The brainwashing center opened in December 2001, and is a facility for persecuting Falun Gong practitioners in Gansu Province.
In the past six years, many Falun Gong practitioners have been tortured to disability or even death here. Annie's mother is being held in the brainwashing center. Her family is unable to send clothes to her, because the brainwashing center authorities refuse to pass them to her.
Flushing resident Zhang Shuangying has not seen her parents for 15 years. Local police refused to issue passports for Ms. Zhang's parents because they practice Falun Gong. Inn early July, Jinan City police once again arrested Ms. Zhang's father, Zhang Xingwu. Mr. Zhang's recent situation is unknown. Zhang Shuangying urged the Chinese Communist regime to immediately and unconditionally release her father, who is in his 60s.
Zhang Shuangying said, "On July 8, 2008, more than 20 police officers forcibly pried open the security door of my parents' home. They broke in and ransacked the house. They confiscated several bags of Falun Gong informational materials, a printer, a computer and other items. The police also took away a large sum of money (in cash). The police took my parents to the detention center and ransacked their home for over two days. The door of my parents' home is still sealed. Since being sent to the detention center, my mother displayed symptoms of a serious stroke and paralysis due to the persecution. The police were afraid of taking responsibility if anything happened to my mother, so they released her two days later on the condition that she must go to the police station to report every day. My father is still being detained at the Jinan Detention Center. The local police claimed they would sentence him to a lengthy term because they had obtained strong evidence against him."
Ms. Zhang continued, "My father Zhang Xingwu and my mother Liu Pinjie began practicing Falun Gong in 1995. My mother had been plagued by many illnesses, and she became healthy after practicing Falun Gong. My parents are well-known as good people for their sincerity and kindness. Since July 20, 1999, they have been arrested on multiple occasions for persisting in their cultivation. They lived away from home to avoid the persecution for a period of time. My father was sentenced to three years of forced labor in 2001. He was charged with 'promoting Falun Gong.' During the detention, he suffered physical torture and mental torment. He was deprived of sleep for 12 consecutive days. The guards carried out a highly intensive brainwashing on him, and he was only allowed to take an hour rest during the time. After my father was released, agents from local '610 Office,' police station and residential committee monitored him. He had no personal freedom."
Jinan police knows that Mr. Zhang Xingwu persists in practicing Falun Gong and also clarifies the facts about Falun Gong to his neighbors. They chose to arrest him now; Zhang Shuangying believes it has something to do with the Olympics.
Zhang Shuangying's father is a professor of physics, and proficient in computer techniques. He was able to break through the Internet blockade to download the latest information from overseas websites, including the recent persecution that the Chinese Communist regime initiated against Falun Gong practitioners in Flushing. He knew all this, and the regime was afraid that he would spread this information to more people.
Nine-year-old Zhang Zhishuo lived in the Dadong District, Shenyang City, Liaoning Province. Her mother was arrested in the run up to the Olympics for practicing Falun Gong and was sentenced to one year in the Masanjia Forced Labor Camp, without going through any legal procedures, nor notifying her family. So far, no information about her is available.
Zhang Zhishuo came to New York with her grandfather last September, and learned that her mother had been arrested. No words can describe this nine-year-old girl's grief. She said that Falun Gong teaches people to be good people, and she does not know why the Communist Party persecutes it. She read a letter to New York City Council members and President Bush at the press conference yesterday, hoping that they can help her mother so that she will be able to meet her mother soon. Her mother, Jia Yahui, is a reporter for Liaoshen Evening newspaper, and the agents from the National Security Department arrested her in April when she attended her cousin's wedding ceremony. The police broke into the house and said that they wanted to talk to her about something, and then took her away. Her family finally learned that she was sentenced to one year of forced labor for not giving up her practice of Falun Gong.
New York City Council Member David Yassky, representing the Borough of Brooklyn, called on people of conscience to voice their concerns.
Herbert Daughtry, who has earned the title "The People's Pastor" condemned the Chinese Communist regime for arresting Falun Gong practitioners' family members.
New York State Assemblyman Karim Camara said that his office had delivered a letter three weeks ago to the Chinese Consulate. He said, "We heard that Falun Gong practitioners' family members have been abducted. The United States has a strategic relationship [with China]. We should do everything in our power to address these issues and we're not doing enough right now ." He said that he will contact senators and representatives of the U.S. Congress to make concerted effort. As the world focuses on China, we have a moral responsibility to raise human rights issues.
New York newspaper Metro News, Radio 90.7 and TV Channel 12 and other media attended the press conference.