(Clearwisdom.net) On August 6, 2008, at the European Union Commission headquarters in Brussels, a representative of CIPFG (Coalition to Investigate the Persecution of Falun Gong) formally submitted over one million signatures collected globally to the European Union Commission, requesting its help to stop the Chinese Communist regime's persecution of Falun Gong.
(Clearwisdom.net) On August 8, 2008 at 1:00 p.m., a rally was held by the Swedish branch of Reporters Without Borders, and a Swedish organization focused on supporting human rights in China (SRICH), along with other human rights organizations and members of Parliament. They were there to protest the Chinese Communist Party's (CCP) arrest of reporters, blockading of press freedom and violating their promise of freedom of speech made to the International Olympic Committee and international society. They also called on the communist regime to release jailed reporters, human rights advocates and Falun Gong practitioners. Falun Gong practitioners in Stockholm and other nearby cities also joined the protest.
(Clearwisdom.net) Dr. Rudolf Garcia Gallont from Guatemala is a member of The Transplant Society (TTS). He recently attended a TTS conference in Sydney, Australia. He told this reporter that for the last two years, TTS has paid close attention to the allegations of organ harvesting from living Falun Gong practitioners in China.
~ Rallies & Protests ~
~ Experience Sharing Conferences ~
~ Rallies & Protests ~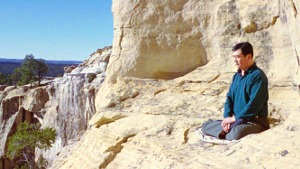 Master Li quietly watching the world from amidst the mountains after leaving New York following July 20th, 1999. (Published January 19, 2000)