Preliminary Round of Chinese International Vocal Competition Completed; Contestants Display Impressive Skill Level (Photos)
August 10, 2008 | By Huang Kaili
(Clearwisdom.net) The second Chinese International Vocal Competition was held on August 8, 2008 at the Town Hall in New York. Twenty-four contestants from the North American region entered the semifinal. A total of forty contestants including sixteen selected from preliminary contests in the Asian and Pacific region will participate in Sunday's semifinal.
The competition consists of three phases - preliminary, semifinal, and final. Contestants come from many countries, including Canada, the US, Australia, England, Singapore, and Taiwan. Guan Guimin, president of the judging committee, said that the contestants were high level in both singing skills and expression of the inner meaning of songs.
He pointed out that it was important that the songs selected by contestants express upright music and the realm of beauty and compassion.
US contestant Hong Ming in the Male Bel Canto Division<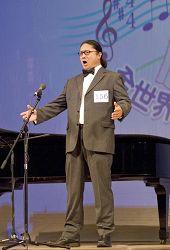 UK contestant in the Male Bel Canto Division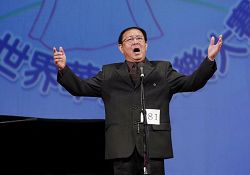 Canada contestant Wang Shaochun in the Male Bel Canto Division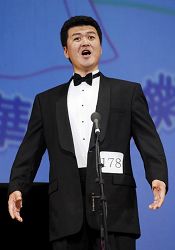 Contestant Liu Wei in the Chinese Folk and Classical Division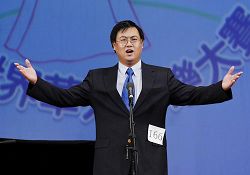 Contestant Gou Bei in the Chinese Folk and Classical Division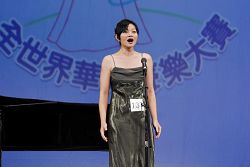 US contestant Li Yu in the Female Bel Canto Division
Contestants: high level competition
Jason Fuh graduated from the Department of Music of Cleveland State University with a Masters Degree. He has worked with many theaters in the US and participated in last year's competition. This year he registered for the competition again and said that he had a feeling of returning home.
Wu Rongrong from Malaysia is a sophomore in the Department of Music, School of Music, York University, Toronto, Canada. She had participated in various competitions since she was 15 years old. She said the level of contestants, the competition venue and the judging committee were all of an international level.
Promoting traditional culture
Vocal judge Han Suqiu said, "Under the degradation of vocal arts nowadays, NTDTV provides a platform to set up a return path for righteous arts."
President Ma Lijuan of the NTDTV Nine Competitions series, agreed. "All the contestants today, whether they enter the semifinals or finals, each one is making a contribution to promoting traditional culture. Future singers will see and appreciate what you have done," she said.Ms. Ma said that Western songs could be sung during the preliminary round, but that a Chinese song must be sung during the semifinal and final competition.When asked about this requirement, Ms. Ma explained, "As time passes, many excellent Chinese songs are forgotten. We are Chinese people and should have our own culture and roots."
US contestant Liu Guanghui said, "It is my first time to see such an international competition without limitation of age, including Bel Canto and Chinese folk songs. I appreciate NTDTV very much for holding this competition and providing an opportunity for us."
Elevation in vocal arts is limitless
Singapore contestant Li Xiupei is studying at the Lasalle College of the Arts in Singapore. She said that she benefited a lot from participation in the competition. She added that elevation in the vocal arts is limitless.
She said, "Everyone can sing, but many don't know much about vocal arts. Many people are learning vocal arts now. Through participation in this competition, I am benefiting a lot and can find a direction to improve my own level."
The semifinal and final will be held over the next several days.