Taiwan: NTDTV International Chinese Vocal Competition Selects Preliminary Round Finalists from Asia-Pacific Region - Winners Will Travel to New York in August for Global Semi-Finals (Photos)
July 09, 2008 | By Minghui reporter Wang Qinghan in Chiayi County, Taiwan
(Clearwisdom.net) The Asia-Pacific region preliminaries of the second "International Chinese Vocal Competition" hosted by New Tang Dynasty Television (NTDTV) were held on July 5, 2008, at the Performance Hall of National Chiayi University in Taiwan. Thirty entrants from across Taiwan were selected for the semi-finals after a day of fierce competition. Amidst applause and best wishes of other competitors and their relatives and friends, the winners of the preliminary selection will go to New York in August to participate in the semi-finals.
Certificate presentation ceremony
Certificate presentation ceremony
Contestants at the Asia-Pacific Preliminary Round
Thirty Finalists Are Selected for the Semi-finals
Thirty winners were selected from 92 entrants at the preliminaries in the Asia-Pacific region. Bel Canto Women's Division achieved the best score, 20 contestants were selected for the semi-finals, and Bel Canto Men's Division was the second best, seven contestants were selected for the semi-finals. Three contestants from the Folk Singing Men's Division were selected for the semi-finals, and there was no winner in the Folk Singing Women's Division. An award ceremony for the winners was held on the afternoon of July 6, 2008. After being honored with certificates of commendation for their outstanding performances at the Asia-Pacific preliminary selection, the winners presented a concert for the audience of over one thousand.
Chairman of the vocal competition judge's committee, world-renowned vocalist Mr. Guan Guimin, encouraged the winners to practice well. He said that the competition not only emphasizes singing skills, but also attaches importance to individual's refined behavior. Mr. Guan said, "Style is the man. When a person sings, he/she is undisguised and unmasked, his singing can reflect the singer's inner state. Singing does not have national boundaries, be it Bel Canto or Folk Singing, there is no difference in its artistic realm."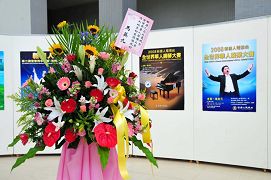 Taiwan President Ma Ying-jeou sent a flower arrangement to congratulate the success of the International Chinese Vocal Competition
Congratulatory flower arrangements from government officials
| | | |
| --- | --- | --- |
| Premier of Executive Yuan Liu Chao-shiuan sent a congratulatory message to wish the vocal competition success | Minister of the Interior Liao Liou-yi extends his congratulations | President of Examination Yuan Yao Chia-wen extends his congratulations: Pure Truthfulness, pure compassion and pure beauty |
| | |
| --- | --- |
| Foreign Minister Ou Hung-lian sent flowers | Tainan City Council Speaker Huang Yu-wen sent flowers |
Legislative Committee members Chiang Yi-hsiung,Chang Chia-chun, Chao Li-yun, Shuai Hua-min and Chu Feng-chi wish the vocal competition great success
Competitors Appreciate NTDTV's Effort to Introduce Chinese Singing to the World
The competitors brought a variety of songs to the competition, including western classic songs, traditional Chinese songs, ancient Chinese songs, local folk songs, Taiwan ballads, Hakka ballads, and Taiwan aboriginal songs.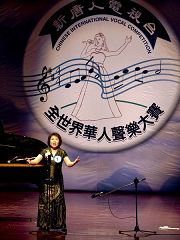 Wen Su-yu, music teacher from Vienna, Austria
Ms. Wen Su-Yu had just come back to Taiwan from Vienna, Austria, and is currently an instructor in the Music Department of National Taipei University of Arts. She was excited about this opportunity to promote Chinese art songs, "It's a meaningful event for the Chinese and brings Chinese Bel Canto and Folk Singing to the world stage." She also felt NTDTV had contributed a lot to popularize Chinese culture and traditional art songs and allows contestants from Taiwan to widen their horizons.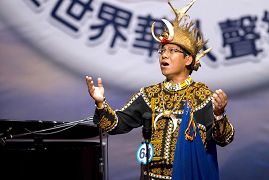 Hu Dai-Ming, music teacher of Taitung High School
Hu Dai-ming, a music teacher at the Taitung High School, is devoted to preserving Taiwan aboriginal music. He established his own chorus and often went to different aboriginal tribes to collect and study their music. He sang "The Beauty of the dusk" and won the preliminary round. He wore a traditional Paiwan tribal costume and a war hat. He said, "It's fortunate for this society to have various competitions held by NTDTV and hence it is possible to promote traditional songs from different regions. It's of extreme importance to preserve and promote national characteristics, including the Hakka and aborigines."
Ms. Chuang Mei-li is the founder and President of Kaohsiung City Distinguished Citizens Society International. She brought her students to the competition and praised the competition as the highest quality she had seen in many years. "I appreciate NTDTV promoting traditional vocal music through this competition. It is important to bring Chinese culture to the world stage," said Chuang.
Husband and wife Chiu Shuo-yao and Tseng Chong-ying were excited to be able to both enter the semi-finals. They were very grateful and happy that NTDTV provided an opportunity for art enthusiasts to get together and learn from each other.
After the concert, the 30 winners from the primary of NTDTV Asian-Pacific vocal competition will set out on a journey to New York to present their pure and beautiful traditional singing.