(
Clearwisdom.net
) Before the Beijing Olympic torch arrived in Daqing City, the officials from the Daqing City
610 Office
and the police officers from all district police departments in Daqing City arrested and harassed Falun Dafa practitioners on a large scale. The 610 Office is an agency specifically created by Jiang Zemin to persecute Falun Gong, with absolute power over each level of administration in the Chinese Communist Party and all other political and judiciary systems. At around 2 or 3 o'clock in the afternoon on July 8, 2008, five or six police officers from Dong'an District Police Department, led by Li Caifeng (female, police number 062640) and the police officers from the "Olympic Torch District Team" led by Yang Zhibin, arrested many Falun Dafa practitioners. The practitioners arrested were Ms. Gao Shude from Wangjiaweizi (also called 721) in Sartu District, Daqing City, Ms. Liu Yuzhu (33 years old and a discharged employee on a forced "buy-out" agreement from Daqing City Vocational College), Ms. Liu Jinhua, Ms. Cai Fuzhen (60 years old and a family member of an employee of Daqing City General Machinery Factory), Ms. Li Shufang (a retired employee) and Ms. Zhen Xiuqin (68 years old, a family member of an employee of the Technical Training Center of Daqing City Vocational College).
(Clearwisdom.net)
Since May 30, 2008, 11 practitioners from Zhenjiang City, Jiangsu Province, have been arrested.
1. Mr. Hu Jue is 66 years old. On the afternoon of May 30, several police officers broke into Mr. Hu's home. They arrested him and another practitioner in his house. The police ransacked the place and took all the Dafa books. His children do not live with him. When they discovered that their father was missing a few days later, they began to search for him. The local Jiangqiao Police Station in Zhenjiang City never informed the family. They said they did not know Mr. Hu's whereabouts when his family inquired.
(Clearwisdom.net)
Ms. Liu Fang, a Falun Gong practitioner from the Development Zone of Dalian City, was arrested twice by the local
610 Office
from 2005 to 2007. While she was detained, her home was searched, and she was force-fed and tortured. Below are details of the abuse and torture she has suffered.
~ Accounts of Persecution ~
~ Opinion & Perspective ~
~ Falun Dafa in the Media ~
~ Rallies & Protests ~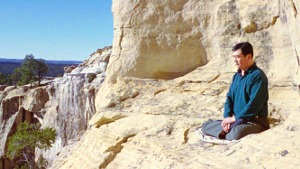 Master Li quietly watching the world from amidst the mountains after leaving New York following July 20th, 1999. (Published January 19, 2000)