Montreal, Canada: Everyone Should Know the True Story of Falun Gong (Photos)
July 28, 2008 | By Minghui Correspondent Xiao Yan
(Clearwisdom.net) "Don't stop. Continue! I support you! Let more people know about Falun Gong!" said a Cambodian Canadian when he saw the July 22 candlelight vigil in Montreal's Chinatown to mourn the Falun Gong practitioners who have died in the persecution by the Chinese Communist Party (CCP).
He is a retired employee of the Quebec provincial government. At first he said his name wasn't important and that we should let everyone know about Falun Gong. But eventually he handed us his card with two hands. He said he had been badly persecuted by the Communist Party in Cambodia. He knew about the persecution of Falun Gong, but many local residents didn't. He stressed repeatedly that the activity should continue and more people should learn about Falun Gong. He also stressed that we should often get in touch with the government and call the government. "Everyone should know about this persecution. We must stop the CCP persecution."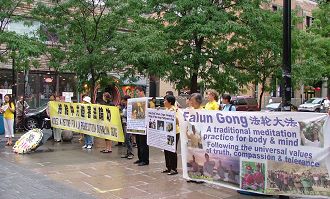 Falun Gong practitioners in Montreal held a rally to call for end of the persecution of Falun Gong by the CCP.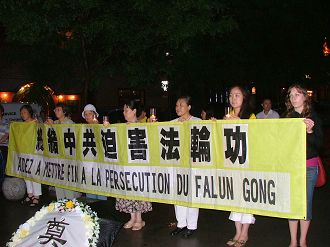 Candlelight vigil to mourn the Falun Gong practitioners who died from persecution.
It started pouring just before the rally, and pedestrians quickly dispersed. However, Falun Gong practitioners weren't deterred. They stood firmly in the rain, holding the banner "Stop the Persecution of Falun Gong." As the rain stopped, it turned dark. Falun Gong practitioners lit their candles and looked even more steadfast.
Ms. Yu from Liaoning Province told the reporter that she felt younger after practicing Falun Gong. When she had a check-up in China, the doctor said she had the heart of a 30-year-old, even though she was 60. She was imprisoned in China in 2001 just for posting Falun Gong flyers. Her belongings were confiscated. She later came to Canada and obtained refugee status. She can't go back to China to take care of her husband, who has senile dementia. She lives by herself in a foreign country and "clarifies the truth" about Falun Gong every day. She hopes more people will learn the true story of Falun Gong and that the persecution will end soon.
"People I know were persecuted." said Ms. Gao, who used to work in a sanatorium in China. One of her colleagues, a 30-year-old man, died as a result of the persecution.
Ms. Zeng, who used to be a Christian, said she heard about the CCP's organ harvesting from living Falun Gong practitioners from the BBC news website. She found Clearwisdom and the Epochtimes websites from the links. "I read all the reports. I felt like I knew them (the victims) all. I could feel what it was like while I was reading it. It was as painful as having my own organs harvested. I prayed for them and wrote to the church, hoping they would help Falun Gong practitioners. But nobody replied. I was very disappointed." Ms. Zeng told the reporter that she later started practicing Falun Gong cultivation and realized the best way to help those suffering is to tell people the true story of Falun Gong.
Passersby were fascinated by the light of the candles in the dark. They quietly walked over and signed their names to call for an end to the persecution.
The vigil ended at 9:30. Falun Gong practitioners are determined to continue their truth-clarification until the day the persecution ends.