Sydney, Australia: A Candlelight Vigil In Memory of Fellow Practitioners in China (Photos)
July 26, 2008 | By Hua Qing in Australia
(Clearwisdom.net) On the evening of July 20, 2008, in cold wind and drizzle, Falun Gong practitioners held a candlelight vigil in front of the Sydney Town Hall to commemorate practitioners who have died as a result of the Chinese Communist Party's (CCP) persecution in the past nine years. They called for an immediate end to the persecution and the release of all detained Falun Gong practitioners. Though being far away in Australia, every practitioner here is concerned about fellow practitioners in China and the Chinese people who have been deceived by the CCP's lies. Let's hear what they say from bottom of their hearts.
Mr. John Deller calls for an end to the persecution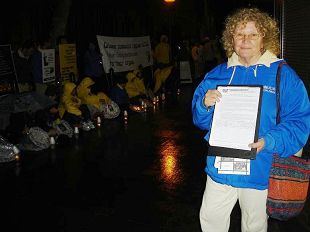 Ms. Colleen May says practicing Falun Gong is very good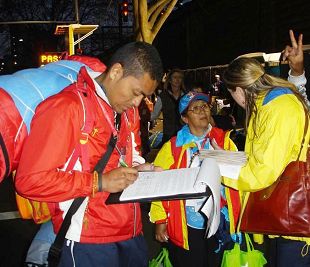 People sign the petition to condemn the persecution of Falun Gong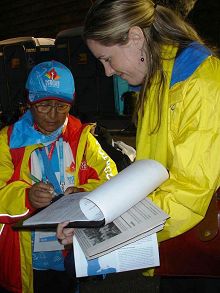 People sign the petition to condemn the persecution of Falun Gong
Let us work together to call for an end to the persecution
John Deller, spokesperson for the Falun Dafa Association of NSW explained to the public that Falun Dafa practitioners are holding the candlelight vigil to mark the start of the persecution in China on July 20, 1999. He said, "In China, 100 million people who follow Truthfulness-Compassion-Forbearance and practice traditional Chinese exercises and meditation were attacked on this day 9 years ago. The Communist Party under then leader Jiang Zemin thought it could eradicate Falun Gong in a few months, but 9 years later they have not succeeded. But sadly they have killed over 3168 innocent Chinese citizens and interned hundreds of thousands more in labor camps where they are tortured to renounce their beliefs. In doing so, the Communist regime has exposed its evil nature to the world."
Mr. Deller also said this was a time for reflection on those less fortunate, a time to care for Falun Gong practitioners in China who do not have the freedom to celebrate their faith, and a time to speak up to end the persecution.
It is a really beautiful cultivation practice
Australian practitioner Ms. Colleen May said, "Today is a very special day. It is 9 years since the persecution of Falun Gong began in China.
It is also World Youth Day in Sydney and we've tried to reach many people to let them know what is happening in China with the persecution of Falun Gong. It is not only Falun Gong that is persecuted but also Catholics and Christians.
"I first came upon Falun Gong when I saw practitioners sitting in meditation at a festival. They looked so wonderful and I was immediately drawn to it and wanted to practice that. When I found out that there was no cost involved, that amazed me too. I always thought that you can't buy spirituality, and this had that spiritual feeling to it and I started practicing the next day.
"Now I have practiced Falun Dafa for 8 years. It is a wonderful practice that has excellent principles, universal principles of Truthfulness-Compassion-Forbearance. It helps you to lead a very good life and be helpful to others too. I have found my questions answered in the book, Zhuan Falun and have finished searching and it's great!
Awaken people's conscience and rescue persecuted Falun Gong practitioners
Practitioner Ms. Li Jiezhen was from Zhanjiang City, Guangdong Province. She came to Sydney eight years ago. She often distributes truth-clarifying materials in downtown Sydney. She said, "Today is July 20th, I have taken part in efforts to end the persecution for nine years. In Sydney, I can freely distribute flyers, clarify the truth and call on people to work together to end the persecution of Falun Gong. However, my niece Chen Zhuoyi is subjected to the CCP's persecution for being steadfast in practicing Falun Dafa and clarifying the truth. In the run up to the Olympic Games, my niece was once again arrested and sent to a brainwashing center because she refused to give up her belief, and then she was transferred to a prison in Haikou City. We are unable to track down her actual location."
Ms. Li continued, "Here I expose to the public the CCP's persecution of Falun Gong, call for an end to the persecution and rescue all illegally detained Falun Gong practitioners including my niece in China. I hope that the Chinese people can also enjoy freedom of religion as people in other countries. Tens of thousands of people have been participating in World Youth Day here. Most of them are willing to take flyers from us. They were shocked upon learning about the CCP's persecution of Falun Gong and other religious groups.'"
Ms. Li said, "We are here to rescue fellow practitioners who have been subjected to persecution in China for persisting in their belief, and also to awaken people's conscience, and awaken Chinese people who have been deceived by the CCP's lies. We also want to awaken some organizations and individuals who have compromised with the evil CCP for temporary benefits, such as concerned organizations and individuals in Eutelsat incident."
Over 4,000 signatures were collected in downtown Sydney this day, part of the "Million Signatures" campaign initiated by the Coalition to Investigate the Persecution of Falun Gong (CIPFG).