Washington D.C.: Parade Against the Persecution Touches Easterners and Westerners (Photos)
July 21, 2008 | By Minghui/Clearwisdom reporters Li Jingfei and Ye Linghui
(Clearwisdom.net) On July 18, two thousand Falun Gong practitioners from all over the world held a parade against the persecution through the streets of Washington D.C. The parade, led by the Divine Land Marching Band, took off from the Washington Monument, went along Constitution Avene and K Street and ended at Farragut Square. The procession attracted many local citizens and tourists. Many government employees also came out to see the parade.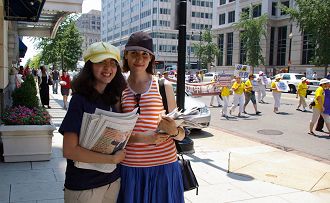 Madalina (left) and her sister Diana (right) from Toronto, clarifying the truth to people on the street.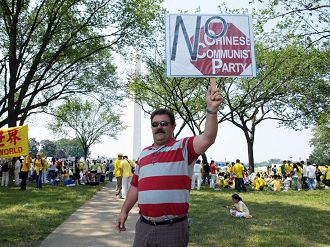 Bob, a tourist, volunteered to carry an anti-CCP sign for people to see.


A young Chinese lady is moved to tears by the parade.
A young Chinese woman, who works at a lawyer's office on K Street, told a reporter that her boss saw the parade and asked her to come to watch. She said, "I never saw such a parade. I am totally moved by their special spirits." She was moved to tears.
A Chinese gentleman told a reporter that he works for the National Security Department. He started practicing Falun Gong on his own two years ago. This was his first time to see such a large scale parade.
Mr. Chen, who came to U.S.A in 2004, said, "I used to practice Falun Gong too. When I was in China, I witnessed the arrests [after the persecution started in July 1999]. I had Falun Gong books too, and my house was searched. The system in China is horrible. We don't have freedom there."
Joseph Sam is a government employee. He had not seen any Falun Gong activities before. He hoped that the American government will help stop the persecution. He also expressed appreciation to practitioners for making the situation in China more widely known. Ambo, Brian and Wan, three government officials, came out to watch the parade after hearing the lively music of the waist drum procession. They had never heard about Falun Gong either. They were amazed that so many practitioners came from all over the world for the parade. They were also shocked by the brutal persecution. They asked what they could do to help practitioners.
David Fleming, a computer engineer, saw the parade during his lunch break. He learned about the persecution from the materials practitioners handed out along the parade route. He said, "It is horrible and a shame that this organ harvesting still exists in the world. We should help to stop it. It is not just an issue in China. We are all part of this world."
Bob and his wife are tourists from New Hampshire. When they passed Washington Monument, Bob joined the practitioners. He held up an anti-CCP sign and showed it to people. Bob explained, "I am a U.S. taxpayer. We love the Chinese people. We hope they have freedom. We want to see a strong and free China. We need Chinese people; the world needs Chinese people. We must stand up to fight the CCP. Although it is hard, Chinese people should fight for freedom for their children." Bob had previously learned about the CCP's organ harvesting from TV. He said, "We must dissolve the CCP. It is time to give freedom back to the Chinese people." He said he would talk to his congressman about it. "For the sake of Chinese people, I hope everybody will help," said Bob.
Jim from Hong Kong watched the parade. His wife is a Falun Gong practitioner. "Although I don't practice Falun Gong, I support them," he said. "My wife changed a lot after she started practicing. We had a lot of conflicts before, but now she is much more gentle and peaceful."
Madalina and her sister Diana, both practitioners, came from Toronto, Canada, for the parade. Madalina said, "It is important to tell people about what is happening in China. I have benefited a lot from practicing Falun Gong, which has brought harmony to our family. The persecution in China is very severe. I found that many people don't know about it. That is why I came here to pass out informational materials on the street. I want people to know about the brutality of the persecution and the beauty of Falun Gong."
Diana also practices Falun Gong. She said, "I want to tell everybody that Falun Gong is good. I was shocked when I learned about the persecution. It must end. So, I want to tell people about it."