Taiwan: "Truthfulness-Compassion-Forbearance" Art Exhibition Held in Taitung (Photos)
July 18, 2008 | By a practitioner from Taitung
(Clearwisdom.net) On July 12, the "Truthfulness-Compassion-Forbearance" Art Exhibition was displayed in an art center in Taitung, Taiwan. Many local government officials, artists, and citizens came to the opening ceremony.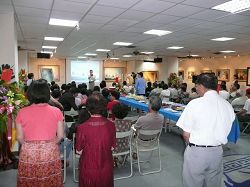 The exhibition hall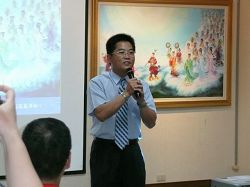 Legislative Member Huang Jianting hopes more people will learn the truth about the persecution against Falun Gong.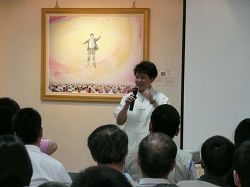 Mrs. Yang, trustee of a local art association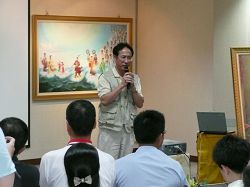 Mr. Ye, trustee of a local public service association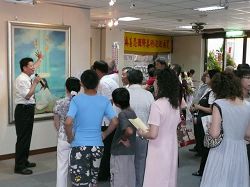 Viewing the artworks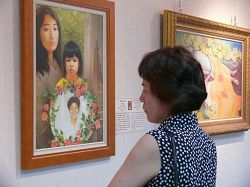 Viewing the artworks
The artworks in the exhibition depict the spreading of Falun Dafa around the world and the persecution in China. The Falun Dafa Association in Taiwan organized the local art exhibition and Falun Dafa practitioners spoke about the background of the exhibition at the ceremony.
Legislative Member (LM) Huang Jianting gave a speech at the ceremony, expressing his admiration of Falun Gong practitioners' spirit of pursuing the truth.
Chen Jiannina, the former mayor of Taitung and father of LM Chen Ying, said that Falun Gong's principles of "Truthfulness-Compassion-Forbearance" will create harmony in society.
Hsie Mingchu, a county council member of Taitung, supports Falun Gong practitioners' activities opposing the persecution. She called upon the Taiwanese government to pay more attention to the human rights situation in China.
Mrs. Yang Yujinchian, trustee of a local artists' association, stated that she sensed strong and pure energy fields from the artworks. She doesn't understand why the Chinese government launched the persecution against a group peaceful people. She expressed her respect for the Falun Gong practitioners.
Ye Chunjin, trustee of a public service association in Taitung, came to the exhibition with many association members. He said: "This exhibition is a meaningful public event. It helps people understand Falun Gong spiritually."
The exhibition runs from July 12 to 20. Falun Gong practitioners and organizers hope that more people will learn the truth about Falun Gong and the persecution through the artworks.