Mr. Zhu Zhiyong from Lulong Town, Qinhuangdao City Persecuted (Photos)
(Clearwisdom.net) Mr. Zhu Zhiyong, 29, lives in Shige Village, Yinzhuan Township, Lulong County, Qinhuangdao City. After his parents passed away when he was a child, he lived by himself. Although he had not received much education from his parents, through practicing Falun Gong, he became a very good person and lived according to the principles of "Truthfulness, Compassion and Forbearance." Everyone in the village said that he was the kindest boy. However, a kind person like him has been persecuted many times simply because he refused to give up his belief.

The first time was in 1999, when the Chinese Communist Party (CCP) started to persecute Falun Gong. Mr. Zhu Zhiyong went to Beijing to appeal and was illegally detained, but later released.

The second time was when he went to Baoding City to study at a Chinese cooking school. Because he told people the facts about Falun Gong and posted flyers, he was again illegally detained.

The third time was in Qinhuangdao City when he was working in the coal alleys. For writing down the truth about Falun Gong, he was arrested by the railway policemen, and then sent to Shanxi Province. After a few days, he was sent back to Lulong County.

The fourth time took place in June 2008. A group of people came to Mr. Zhu Zhiyong's house. They came in three vehicles and were from the Lulong County Procuratorate and the police department, including the head of the domestic security division Bai Jie, and the head of the Yinzhuang Police Station. At the time, Mr. Zhu was working on his farm and they called him back to the house. Bai Jie wanted to confiscate Mr. Zhu's computer and check its contents. Mr. Zhu refused to let him do so, then this group of people started to beat Mr. Zhu very badly. They tied him up and took him to the Yinzhuang Police Station. The next day, he was locked up in the Lulong County Detention Center.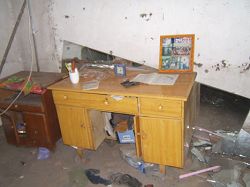 Mr. Zhu's home was turned into a complete mess from being ransacked.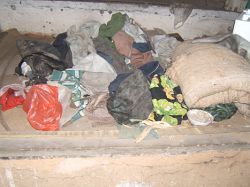 The bedding was ripped open during the search.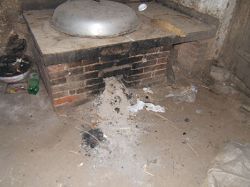 Stove ashes were dug out.
After June 4, 2008, people from the Domestic Security Division entered and ransacked Mr. Zhu Zhiyong's house four times. They took away a television, printer and other personal property. The house was turned upside down and left in a big mess. Even the bedding was torn up when they searched for evidence. They even dug out the ashes in the stove trying to find something that could have been hidden underneath. Mr. Zhu's personal belongings were strewn everywhere on the ground. It was hard to even open the door.

Mr. Zhu Zhiyong is a good person who follows the principles of "Truthfulness, Compassion, and Forbearance." He did not do anything against the law; however, the CCP officials order all levels of law enforcing departments to persecute Falun Gong practitioners again and again, violating justice.

We appeal to all kind-hearted people to help to rescue Falun Gong practitioner Mr. Zhu Zhiyong. We appeal to the people of justice in Lulong County, Qinhuangdao City to provide us with the truth about the persecution and stop this illegal persecution together with us.
Lulong County Government Law Office: 86-335-726010
Lulong County Police Department: 86-335-7012449
Lulong County Political and Judiciary Committee: 86-335-7206771
Yinzhuang Police Station: 86-335-7048217, 86-335-7048110
Police Department: 86-335-7017110
Detention Center: 86-3335-7012440
Yinzhuang Township Government: 86-335-7048025
Chenguantun Court: 86-335-7046124
Lulong County Court: 86-335-7012437
Shimen Court: 86-335-7023101