Eight Additional Deaths Due to Torture Verified in May 2008 (Photo)
(Clearwisdom.net) In May 2008, it was reported that eight Falun Gong practitioners died as a direct result of the persecution. Among them, two were female and three were over 50 years old. All eight victims died between January and May of this year, 2008, with three of the eight deaths occurring in May. The Minghui/Clearwisdom website has revealed that among the 42 confirmed death reports between January and May 2008, thirty-four died within the period of January to May.
Of the eight cases in May, two each took place in Liaoning Province, Heilongjiang Province and Jilin Province with one death each taking place in the provinces of Sichuan and Hunan. As of May 31, 2008, 3,156 practitioners had been confirmed dead as a direct result of the brutal persecution in China.
Mr. Lu Renqing Dies after Being Transferred to Three Different Prison Facilities
Mr. Lu Renqing, 39, lived in Majiazi Village, Xinbin County, Liaoning Province. Before he started practicing Falun Gong, he was known for being ill-tempered. He had always suffered from severe headaches, and he was also very attached to money. However, after he began practicing Falun Gong in March 1999, he became a better person. He did things according to the principles of Truthfulness-Compassion-Tolerance and became considerate of others. People wanted to befriend him, he was willing to help others financially. He no longer had headaches. People in his village said that he became a different person. He had benefited from Dafa greatly and appreciated Dafa from the bottom of his heart.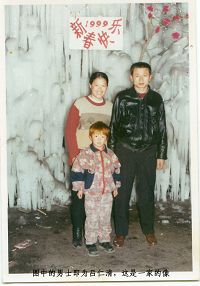 Lu Renqing (on the right) and his wife and child
On July 20, 1999, the Communist regime began the persecution, so Mr. Lu decided to go to Beijing to make an appeal for this practice that had benefited him both spiritually and physically. He was arrested in Beijing before he was even able to get to the Office of Appeals. The police took him back to Xinbin County, where he was detained for several weeks. Fifteen days after his release, he returned to Beijing but was illegally arrested again on September 9, 1999, and once again taken back to Xinbin County. This time he was sentenced to two years of forced labor and detained at the Fushun City Forced Labor Camp.
After he was released from the forced labor camp in March 2002, Dasiping Town Police Station Director Guo Jian (male) and Zhao Yazhong, along with four or five officers, broke into Mr. Lu Renqing's home and arrested him once again. He was taken to the Xinbin County Detention Center, but escaped on the way there. To avoid being taken into custody again, he could not return home. On July 1, 2002, officers from the Fushun City Police Department arrested him while he was clarifying the truth in Fushun City. He was cruelly beaten and detained in the Fushun City Second Detention Center for four months, where he suffered from scabies all over his body. He was illegally sentenced to prison and taken to Dabei Prison, located in Shenyang City. In December 2002, he was transferred to Huazi Prison in Liaoyang City. Mr. Lu remained steadfast in abiding by Truthfulness-Compassion-Forbearance during his term that lasted several years. While he was imprisoned, Mr. Lu was inhumanly tortured by being locked in a small cell and brutally force-fed.
Because of the severe abuse he suffered, Mr. Lu was unable to take care of himself for over a month. He was forced to sit on a small plastic stool as yet another form of torture while he recovered. He asked to see a doctor many times but his requests were always ignored. The guards constantly denied the fact that he had been brutally beaten. Although Mr. Lu was very healthy before being imprisoned, starting in September 2005, he began to cough up blood and had difficulty breathing. He was never allowed to see a doctor and was never treated for his progressively weakening condition.
On December 9, 2007, Huazi Prison officials transferred Lu Renqing to Ganjingzi Prison, located in Dalian City. He was still forced to do hard labor even though he was in such poor physical condition. Finally he could not even walk, so the guards had two prisoners carry him to the work site. He went on a hunger strike for eight days to protest this brutal mistreatment. He coughed up blood and became extremely weak. A doctor diagnosed him with advanced tuberculosis. Huazi Prison officials transferred him to Tieling Prison at the end of December. Another examination revealed a large hole in his lung, and the prison administrators were told twice by physicians that he could die at any time, but they still refused to release him.
Finally heeding his family's urgent requests, on March 10, 2008, Tieling Prison officials took Mr. Lu to the Tieling City Tuberculosis Hospital for treatment. He had fluid in his lung, and his heart was not functioning properly. The doctors operated on him but announced that he would not live long. The long-term mental and brutal physical torture that Mr. Lu had endured damaged his health beyond recovery. Mr. Lu Renqing died on April 19, 2008.
Practitioners Tortured in Chengdu City Legal Education Center; Ms. Deng Shufen Has Died
Ms. Deng Shufen, in her 70s, was from Shuangliu County in Chengdu City, Sichuan Province. She was detained in the Chengdu City Legal Education Center (a brainwashing center) for 40 days and died on May 5, 2008.
The Chengdu City Legal Education Center is directly under the head office of the 610 Office, and is managed by the Sichuan Province and Chengdu City 610 Offices. Zhou Yongkang directly managed and trained the head and other officers of this education center. The staff members consist of spies, gangsters, thieves, underworld people and hired thugs. They use any and all methods to brainwash people, including the use of poison, slandering one's good name, threats, theft, physical beatings and mental abuse, mob instigation and incitement, as well as alienation. When poison is used, it is done in two steps. First, they put the poison in the victim's meals in order to make one's physiological functions confused. Then, they claim that the Falun Gong practitioners became ill and they refuse to take the responsibility for this. Several strong men then bind the practitioners forcibly and inject the poisonous drugs into them to destroy the central nervous system. The victims will immediately began to feel ill throughout their entire body, and experience symptoms of headaches, delirium, paranoia, muscle and stomach convulsions, and severe hallucinations.
Ms. Deng Shufen was a farmer living in Jitian Town, Shuangliu County in Chengdu City, Sichuan Province. She used to be very healthy. She was arrested and detained eight times after the persecution started. When police officers went to arrest Ms. Deng, officer Zhu Yong from the Political and Law Office destroyed Ms. Deng's door and even demolished her fruit box.
On October 1, 2007, she went to clarify the truth to the town government. In the middle of the night, Jitian Town Security Office head Su Wenhua, Political and Judiciary Committee member Zhu Yong (male), Jitian Town Police Station officers, and Town Security officer Gao Shiming (male) arrested Ms. Deng and took her to the Chengdu City Legal Education Center for 40 days. She was released because she could not eat as a result of the mental and physical torture that she had been subjected to. She was as thin as a skeleton, and her eyes remained wide open for two months. She died on May 5, 2008.
Practitioner Mr. Cao Hongyan Tortured to Death at Jilin Prison
Practitioner Mr. Cao Hongyan from Jilin was "illegally sentenced" to eight years of imprisonment. On October 9, 2007, he was tortured to death in Jilin Prison.
Mr. Cao was sent to the Jilin Railroad Hospital, also known as the Police Hospital, on October 8, 2007 after he lost consciousness from being tortured at Jilin Prison. When his family rushed to the hospital, they saw that Mr. Cao was intubated and being given oxygen. Mr. Cao was not moving. His left eye was closed, his right eye was half closed, and his mouth was open. He passed away at 5:50 a.m. on October 9, 2007. When Mr. Cao's family members changed his clothes, the corners of his mouth bled. There was a large patch of black bruises at the top of one of his thighs and a round mark the size of a dime on the right side of his chest. When Mr. Cao's family asked about the cause of his death, the police said that it was due to a brain hemorrhage. However, the doctor said they did not confirm that diagnosis and did not even perform cerebral tests. On October 9, 2007, Mr. Cao's body was quickly cremated.
Because he practiced Falun Gong, Mr. Cao Hongyan was arrested, detained and taken to the brainwashing center many times. He was forced to leave home to avoid being persecuted. In 2002, Mr. Cao was again arrested as he left his job, by police officers from Yangjiaweizi Police Station in Changchun City. He was illegally sentenced to eight years of imprisonment and detained at Jilin Prison. While at Jilin Prison, Mr. Cao went on a hunger strike to protest his detention and the persecution. He was kept confined in a small cell and had his limbs stretched out and fixed on a torture bed, causing him excruciating pain. Some time in October 2004, guards from Jilin Prison sent Mr. Cao to the Jilin Railroad Central Hospital for emergency treatment. At that time, his family rushed to the hospital and saw that his legs were swollen and the muscles of his face were spasming. On October 9, 2007, Mr. Cao Hongyan was tortured to death at Jilin Prison. The detailed information about his torture and suffering is still under investigation.
Guards at Jilin Prison have tortured many other Falun Gong practitioners to death, including Liu Chengjun, Wei Xiushan, Zhang Jianhua, Cui Weidong and He Yuanhui. Practitioners including Hao Yingqiang and Lei Ming died as a result of the brutal torture they suffered while at Jilin Prison, after they were transferred to other prisons, or after they were released on bail for medical treatment. Many practitioners have also been disabled due to the brutal persecution suffered there.