New York Councilman: [These Violent Attacks] Will Not Be Tolerated under Any Circumstance (Photo)
(Clearwisdom.net) In response to the extended violence in Flushing, NY, instigated by the Chinese Communist Party's hate propaganda, about 3,000 Falun Gong practitioners and rights activists staged a grand parade and a rally at the northwest satellite city of the Big Apple. New York City Councilman Tony Avella attended the rally and gave a speech.
The councilman said: "We live in the United States of America, and there are certain rights that we consider important: Freedom of speech, freedom of assembly, freedom of religion. And under no circumstance, would we let anybody take these rights away from anybody.
"So I am here today, I don't represent this district. But, I am here today to say: No matter why this type of discrimination goes on, it is un-American and will not be tolerated under any circumstance."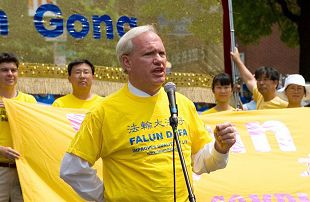 Councilman Avella
The councilman told the reporter that he would take further action to protect the practitioners: "I am going to follow up and make sure that the Queens District attorney charges everybody who was arrested for these attacks with hate crimes which entails further penalty. I am also going to contact the United States Department of State and the FBI to investigate whether the Chinese Consul General Office in New York condoned or anyway helped these attacks.
"And if we can prove that the Chinese government is behind the attacks," the councilman told the rally, "we will ask the Chinese consulate general and those members in the consulate that condoned these attacks to be expelled from this country."
At the rally site, the councilman also put on a Falun Gong T-shirt and said: "Now I understand that many of these attacks occurred when you were wearing your T-shirt, and I am going to put this T-shirt on and let them attack me."