Human Rights Lawyer: Chinese Consul Should be Expelled As a "Persona Non Grata" (Photo)
June 01, 2008 | By Ying Xin
(Clearwisdom.net) Well-known Canadian human rights lawyer David Matas said on May 30 that Chinese Consul Peng Keyu, who orchestrated the attack on Falun Gong practitioners in New York, should be expelled from the United States as a "persona non grata."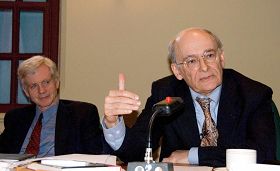 David Matas taking part in the "Forum on Human Rights in China" held in the Canadian Parliament on May 7, 2008

Recently in Flushing, New York, violent mobs attacked Falun Gong practitioners. On May 20, the World Organization to Investigate the Persecution of Falun Gong (WOIPFG) released the records of a telephone interview in which Chinese Consul Peng Keyu admitted that the Chinese Consulate orchestrated the attack in Flushing.
Canadian David Matas, a well-known human rights lawyer, said during an interview, "My view is that the Chinese consular official who orchestrated all this should be expelled from the United States. I consider his behavior to be inconsistent with his status in the country. He should not be trying to shut down free expression in the United States. He should certainly not be trying to intimidate any citizens."It's not for me to say whether it's criminal or not, but it really is inappropriate behavior. Condoleezza Rice, who is the Secretary of State for the United States government, can expel this consular official as a persona non grata on the basis on his behavior, and I think she should do so."
Mr. Matas said that violent assaults on Falun Gong practitioners have occurred in other countries as well, for instance in Argentina. He said, "I think if practitioners can identify individuals who are responsible, they could press charges against the individuals or ask the prosecutors to investigate the possibility of pressing charges. And the same with the consular official. I think they could make a complaint to the police about the consular official and see whether that justifies pressing charges."