Edmonton: Woman Travels 1,200 Miles to See Spectacular--Brings 23 Family Members (Photo)
May 09, 2008 | By Omid Ghoreshi and Neil Campbell
(Clearwisdom.net) "I don't think words will do it justice, it's a feeling--it's all a feeling for me," said Nancy Lavigne after seeing the Chinese Spectacular at Edmonton's Jubilee Auditorium on Tuesday.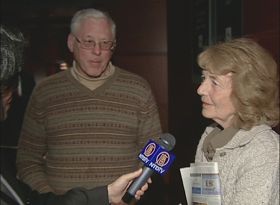 Nancy Lavigne and Garth Ferry at the Chinese Spectacular
"I don't have words to describe it, I really don't. It's so wonderful," said Ms. Lavigne, who traveled all the way from Whitehorse, Yukon, to see the show.
Lavigne and her husband Garth Ferry, had also attended Monday's show but Lavigne wanted to see it again because she felt she hadn't been able to give it all her attention.
"Yesterday we came with some family, and there were 24 of us, so I was concerned a little bit, thinking 'are they OK, are they enjoying it, do they have a good seat,' and so I think it distracted me a little bit from the show."
Later, Lavigne decided she should see the show once again.
"I got home and it was a strong feeling inside, but I knew I had been distracted, I needed to see it again, see some more detail. I really needed to come back, and my husband said, 'Then we go back, if that's what you want, that's what we will do.' And we were so fortunate that everyone was helpful to get us in even though we were late applying for a ticket."
A retired youth service worker for young offenders, Ms. Lavigne said she was pleased that so many of her family members went to the show because, "Normally we can't get together for anything."
She said her family's reaction to the Spectacular was "Very emotional and thoughtful. I'm not sure that they really know in words either, they were saying, 'Oh it's just a feeling, like electricity inside, and a good feeling.'"
Ms. Lavigne described her own feeling after the show as "light and wonderful."
She admired the choreography, saying, "I can't even imagine who did that, or how it was done so perfectly. It was divine, that's all I can say. I can still feel it in me. It's like pure, good energy, pure energy."
She felt that she came to a deeper understanding and appreciation for China's ancient traditional culture.
"It told the story like I had never heard it before. There's still a lot I need to learn about it, but now I know what I have been missing out on.... The [Chinese] culture was thriving 5,000 years ago, there's so much they know that they could teach us. I know I have a lot to learn."
Mr. Ferry said they heard about the Spectacular from their acupuncturist in Whitehorse.
"Jim suggested that it would be a good thing to go, and we have a great deal of respect for Jim, so we said OK, we will. We'll see if the family would be interested, and apparently they were."
Mr. Ferry added that the Spectacular was "very positive" and showed that "The peace in your spirit is important, more important than the material aspects that we see every day."
Two acts in the show depicted Falun Gong and its guiding principles of Truthfulness, Compassion and Tolerance. Falun Gong, also called Falun Dafa, is a spiritual practice rooted in ancient Chinese culture, and is currently being brutally suppressed by the Chinese Communist regime. Ms. Lavigne said she believes the persecution against Falun Gong in China, now in its ninth year, will end soon.
"There's so much I don't understand, and I wish I knew more, but Falun Dafa is good, that is what people must know, that truth must come out. The suffering should end, that's what I think the main message is.
"I wish everyone felt this good feeling. I really think there will be an end to the injustice very soon because of this [show], I do."