Assistant to Chairman of the Green Party (Germany): Divine Performing Arts A Great Performance (Photos)
May 04, 2008 | By Liu Qian in Munich
(Clearwisdom.net) Divine Performing Arts (DPA) presented their first performance of the Chinese Spectacular at the Prince Regent Theatre in Munich, Germany. The show received high praise from a diverse audience.
Wonderful Music and Fascinating Dances
The assistant to Bavaria's Green Party Chairman, Sofie Voit said after the first performance of the Spectacular, "Divine Performing Arts presents wonderful and magical experiences. From the point of view of a European woman, I am greatly surprised to find that this is such an exciting performance. There are so many people and so many groups who came to watch the show, and all of them appreciated the performance." She also mentioned, "Wonderful music and fascinating dances; they are amazing."
Ms. Voit continued, "I liked the dance, 'Nymphs of the Sea,' which depicted water very beautifully and I also liked the Mongolian dance."
When commenting on the Chinese Communist Party's (CCP) attempted interference with the performance, Ms. Voit said, "I cannot imagine why they interfered with the show. But my colleague told me that they (the CCP) did not want to have the show performed here. The CCP is very cruel. It has killed so many people, and they are afraid of being exposed to the public."
She summed up her feelings about the Spectacular, saying, "This is a great performance and we should support them."
Well-known actor in Munich: Discovering Divine Performing Arts performers
A well-known Munich actor, Sven Kramer and his wife watched the Spectacular and were interviewed after the performance. Mr. Kramer said, "The alto Yang Jiansheng impressed me deeply and I also found the last tenor very interesting. All the dancers are very skilled," he added.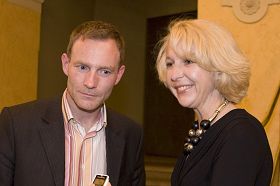 Munich actor Sven Kramer and his wife
Kramer continued, "And the last drum dance, Victory Drums, their dance movements and skills were perfect. It is hard for me to believe that there are such wonderful dancers in this performance; they really impressed me deeply."
He said that from a professional point of view, he can see that the performers must have strict training, which is why they can perform so wonderfully. He said, "I believe that performers who can present such a show on stage must be well and strictly trained. This is not like my job; I just use expressions and my voice to perform. They use their body language to show feelings. This performance really touched me."
Kramer commented that he highly appreciated the traditional Chinese values presented by the various numbers in the performance. He said, "What attracted me is the tradition they maintain in this performance. No matter how difficult it is to do, they still want to continue to spread it."
Mr. Kramer continued, "It is marvelous for a group of several dozen performers to stick to their tradition and perform all over the world even if they can't perform in China."
He also said, "I heard that these performers cannot return to China. I must say that if I had a different point of view and supported and spread the country's culture, then would I be exiled by the government? I think that something must be wrong with this government. "
He added, "These performers on stage, they didn't paint China black. On the contrary, they showed the beauty of China and wanted to say in this way that they love their country and culture. I think it is ridiculous not to allow them to go back to their hometowns."
"They showed their culture here and all over the world. This is wonderful and touching. I bow to them."
Media reports about the Chinese Consulate interfering with the performance drew lots of attention from the public. Kramer told the reporter, "I read several reports about it. I specifically came to watch the performance and to show my support for a free culture."
General Manager of a Production Company: "I am sure that my decision was right"
The DPA performance was a great success in Munich. Mr. Pauli Soloman, General Manager of the Tony Karl Company, disclosed that the tickets were almost sold out within four short weeks. Soloman said with a smile, "This we owe to the Chinese Consulate."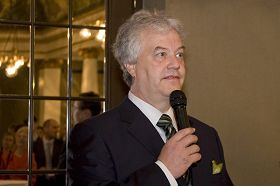 Pauli Soloman, General Manager of the Tony Karl Company
In order to prevent the performance from being presented in Munich, the local Chinese Consulate kept on pressuring the Tony Karl Company and demanded that the company cancel the performance but they refused. Mr. Soloman said at the VIP reception, "I am sure that I made the right decision."
Committee Member of the Free Democratic Party: The Chinese Consulate Created Free Advertisement for Divine Performing Arts
To the Chinese Consulate's surprise, their outrageous behavior caused the German media to report on the event extensively. A committee member of the Free Democratic Party in Munich, Lutz Scheicher said, "The Chinese Consulate advertised Divine Performing Arts."
Scheicher expressed, "I want to tell the Chinese government that even if their number of death penalties decreased in China, we hope that China will cancel it completely and stop arresting and persecuting Falun Gong practitioners."
A married couple said that they decided to see the Spectacular after reading about the Chinese Consulate's interference with the show.