Mr. Wang Guiming from Tonghua, Jilin Province, Died As a Result of Abuse in Detention; Authorities Attempt to Cover Up Crime (Photo)
(Clearwisdom.net) Thirty-eight-year-old Falun Gong practitioner Wang Guiming died as a result of abuse in the Chaoyanggou Forced Labor Camp, Changchun, Jilin Province, on February 29, 2008. Following are details.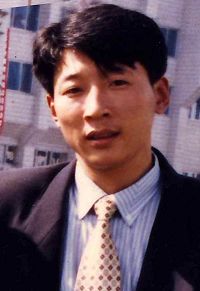 Mr. Wang Guiming
Mr. Wang Guiming was a resident of the Xinshan District, Tonghua City, Jilin. While he was selling baked potatoes on the street on February 13, 2008, Policewoman Sun Shuqin, Policeman Hou Qingbin and other officers illegally arrested Mr. Wang. Many people saw the police beat him in the police van.
Mr. Wang was taken to the Xinzhan Police Station. Policeman Zhang Xiaoxu ordered other officers to remove Mr. Wang's jacket and shoes and take away his cell phone and MP3 player. They interrogated him for seven hours and took him at 9:00 p.m. to the Changliu Detention Center. Mr. Wang's wife, Han Fengxia, refused to sign the arrest document. Later on, Ms. Han went to the detention center to visit her husband and bring him some clothes. But the detention center officials refused to allow her to do this. They only let her give him some money, so he would be forced to buy clothes and other items for daily use from the detention center commissary.
Two Xinzhan Police Station officers unlawfully searched Mr. Wang's house and found two Falun Gong articles. They registered the articles as two "Falun Gong flyers."
When Policewoman Sun Shuqin was asked, "What do you do every day?" she answered, "Our daily job is to arrest Falun Gong practitioners. We just arrested one a few days ago."
Mr. Wang went on a hunger strike in the detention center to protest the unlawful arrest and was force-fed three days later. Detention center physician Jiang Hongjie ordered five criminal inmates to restrain Wang in a large metal chair. They held his ears and hair and force-fed him. He shouted, "Falun Dafa is good! Restore my Master's reputation and that of Falun Dafa. The Communist Party is about to crash. Save your own life by quitting it!"
At 6:00 a.m. on February 27, 2008, officers Du Bing, Feng Gang, Liu Haitao, and Li Changan from the Xinzhan police station took Wang Guiming to the Chaoyanggou Forced Labor Camp in Changchun and sentenced him to two years. By this time, Mr. Wang was extremely weak.
On February 28, Wang's wife, Han Fengxia, and two other family members went to the Dongchang District Police Department in Tonghua City and petitioned police chief Wang Yufan to release Mr. Wang. They had assumed Mr. Wang was held in the Changliu Detention Center but he had already been taken to Changchun Forced Labor Camp. The police had not told them. Then Ms. Han went to Xinzhan Police Station, where an officer ordered her to sign the notification from the labor camp. That is when Ms. Han learned that her husband had already been sentenced to forced labor. She refused to sign.
Mr. Wang's family received no legal documentation, from the time of his arrest until after his death in detention. At 8:00 a.m. on February 29, Xinzhan Police Station officials ordered Ms. Han Fengxia to appear at the station. The police there were unusually friendly with her when she arrived. Someone said she could deliver some clothes to her husband in the labor camp and that she'd better get there before dark. Ms. Han thought this was strange. She said, "If anything happens to my husband, you are responsible for it!"
On March 1, 2008, officials at Daquan Township Police Station in Tonghua City received a notice of the death of Mr. Wang from Chaoyanggou Forced Labor Camp. Station officials notified his sister-in-law, who then told Ms. Han.
Mr. Wang Guiming's sister went to the labor camp on the evening of March 1, 2008. Camp officials told her of her brother's "sudden" death. On the morning of March 3, Wang's wife, Han Fengxia, arrived at the labor camp with their daughter, other family members, and a lawyer. Labor camp Deputy Head Zhang Haijun, camp official Yang Guang, and Yu Tie, the head of the division where Wang was jailed, as well as other guards met with Ms. Han. Zhang Haijun said, "We did not intend for this to happen. After he died, we immediately informed officials at Tonghua's Xinzhan Police Station. Since no one from the family came that day (February 29), we informed Daquan Township Police Station officials the next day, March 1. (Note: This means that Mr. Wang died before 8:00 a.m. on February 29, 2008.)
Division head Yu Tie chimed in, "Police station officials brought Mr. Wang to this labor camp on February 27. He was very weak when he arrived. The camp offered him food, but he said he was not hungry. He was force-fed three times. Gao Zhiruo was dispatched to convince Wang, ordering him to quit practicing Falun Gong. On February 29, Wang went to the restroom six times, the last time around 1:00 p.m. He fell and hit his head on the restroom heater's radiator. The camp took care of him. At 10:30 p.m. someone noticed he was having difficulty breathing. The camp took emergency measures to help him. Later on he was taken to the First Hospital at Jilin University. He died 10 minutes before getting there. Doctor Fan Chunli examined him and pronounced him dead on arrival."
Ms. Han asked how her husband hit his head on the radiator. The official's answer, "Because he tried to kill himself." She asked who had accompanied Mr. Wang. Yu Tie replied, "We sent two criminal inmates with him to the restroom." Ms. Han said, "My husband was sentenced to five years in 2002 and jailed in Jilin Prison where he refused to renounce Falun Gong, so he was sent to Shiling Prison in Siping where he was severely tortured. Guards beat him with four electric batons, which had 360 thousand volts. His face and lips were damaged, and his skin was burned. His Falun Gong books were taken away, and he started a month-long hunger strike. He did not try to kill himself in those dire circumstances. Why would he kill himself two days after he was sent to this labor camp?"
The camp officials said, "He was physically very weak, so he didn't want to live." Ms. Han asked, "Why did you accept him if he was so weak? Weren't you afraid that you would have to take responsibility if anything happened to him?" The reply: "We had people at the Xinzhan Police Station get him a physical exam. The hospital concluded: 1) He was healthy; 2) He had no contagious disease; 3) He had no hepatitis B."
Han and Wang's family members asked to see the body. The camp agreed but forbade any photographs. A bus filled with police officers took them to see his remains. Camp officials feared the family would remove the body, thus the unusually large number of accompanying police officers.
When the family viewed Mr. Wang's body, they saw the following:
There was a piece of clean gauze on the top of his head, with some blood on it. There were no bloodstains on his head, face, neck, or clothes. His head could be turned to the left and right.

There were two parallel 10-centimeter long (about 4-inch) straight cuts on his head.

There were no stitches or bloodstains around the cuts.

There was no damage to his skull.

The skin on the cuts was the same as the color of his body. The cross-section of the cuts in the skin could be easily seen.

There was an egg-sized bruise on his left cheek.

There was an egg-sized bruise on the back of his head.

There was a 10-centimeter diameter bruise on his chest near his heart.

There was a 3-centimeter diameter bruise on the right side of his chest.

There were two 1-centimeter diameter black spots on his forehead and left lower belly.

There was a 3-centimeter diameter bruise on his tail bone.

He had originally worn winter pants, but now wore only a pair of thin pants, no undergarments.
When camp chief Li Fei told Ms. Han Fengxia that he force-fed Wang Guiming, she asked him if force-feeding had caused his death. Li Fei and another official denied it. Ms. Han asked why the cuts on his head were so straight and why there were no stitches. Li Fei didn't answer. She asked again, "According to you, Wang Guiming hit his head on the radiator at 1:00 p.m. in the afternoon and died at 11:00 p.m. at night. Why weren't the cuts sewn up during those 10 hours? Did you want him to bleed to death?" Li Fei didn't answer. Ms. Han asked why, four days after he had died, there was still fresh blood on the cloth that was wrapped around Wang's head. Li Fei said, "The blood oozed out." Ms. Han said, "That is right! That means the cuts were made after he died. You thought the dead body would not bleed, so you didn't sew the cuts. But the blood oozed out!"
On March 4, Ms. Han told the camp officials she wanted to take her husband's body home. The camp said they would pay the family 10 thousand yuan and consider the case closed. Ms. Han did not agree. The camp officials promised more money and told her she needed to pay half of the funeral fees. She said, "A healthy person died two days after he arrived at this labor camp. Now you tell me I am responsible for [half] the funeral fee. I will pay everything, even the hospital fee, but you need to release my husband's body to me!" The camp didn't dare to comply, and Ms. Han left.
That same day, Ms. Han and her lawyer filed a lawsuit with the Procuratorate in the Chengjiao District, Changchun. Procuratorate chief Li Hongbo promised Ms. Han that her husband's body would not be cremated. On March 5, Li met with her in his office again and said they had gone to the labor camp and conducted an investigation. Ms. Han told them what she saw and asked if they saw any blood on the radiator. An official said, "No," but Li interrupted him. Ms. Han wanted to know why he interrupted. Li said, "We got there at 10:00 a.m. the next day after he died, so..." The Procuratorate officials promised to investigate and told Ms. Han she could also file a case with the police department and hire doctors to examine the body. She told the Procuratorate officials that the night of February 29 at Jilin's First University Hospital no one attempted emergency life saving measures and that there is no doctor named "Fan Chunli" at the hospital.
Since the labor camp officials were unable to hide anything, several camp officials, including Chief Wang Zhiming, Deputy Chief Yang Guang and several others, went to Ms. Han's house in Tonghua City on March 8, 2008, and told asked her consider the case closed and to do nothing further.
On March 9, camp officials offered her 50 thousand yuan and asked her once again to consider the matter resolved and sign certain documents.
Ms. Han has solid evidence that certain people at the camp are responsible for the wrongful death of her husband, Mr. Wang Guiming. She has refused to accept the money. She asked to meet with the guards in charge of Wang's case and asked for the return of her husband's body. The camp officials refused to comply and also refused to tell her the names of the guards. The only thing Ms. Han knows for certain is that the division head where Mr. Wang was jailed is named Yu Tie.
On March 13, 2008, camp officials and agents from the legal system in Jilin Province arrived at Ms. Han's home in Tonghua again, asking her how much money she wanted. Ms. Han and her husband's family wanted to meet with the guards who were in charge of Mr. Wang during his incarceration. The family members said they wanted to tell the guards to no longer commit bad deeds. Camp officials refused to comply.
On March 14, Tonghua Police Department officials held a meeting where it was decided to arrest members of Ms. Han and Mr. Wang's family, citing that they had "interfered with police business." Police cars surrounded Ms. Han's house, and plainclothes agents inquired of Ms. Han's neighbors about her activities.
We call upon the powers of justice in the international community to pay attention to this family's situation and help Ms. Han.
On March 17, 2008, labor camp Deputy Chief Yang Guang called Mr. Wang Guiming's brother, telling him the camp would pay 100 thousand yuan if the family agreed to a police-system sanctioned autopsy.
People who signed Mr. Wang's arrest documents on February 25, 2008:
Chen Cheng, Tonghua City Dongchang District Police Department deputy head: 86-435-3907772 86-13843585689(Cell)
Zhang Shanliang, Tonghua Police Department, Law Section deputy head: 86-435-3212766
Xu Guibin, deputy head of Law Section in the Dongchang District Police Department, Tonghua City: 86-435-3219657
Liu Haitao, Xinzhan Police Station deputy chief: 86-435-3616892

Police officers who arrested Mr. Wang Guiming:
Sun Shuqin, Xinzhan Police Station officer: 86-13943590847(Cell)
Hou Qingbin, Xinzhan Police Station officer: 86-13844588796(Cell)
Police officers who took Mr. Wang Guiming to Changchun:
Feng Gang, Xinzhan Police Station chief: 86-435-3616892(Home) 86-435-3904758, 86-13704356166(Cell)
Liu Haitao, Xinzhan Police Station deputy chief: 86-435-3616892
Du Bin, Xinzhan Police Station officer: 86-435-3616892, 86-13894553767(Cell)
Li Changan, Xinzhan Police Station officer: 86-435-3616892, 86-13314350917(Cell)
Police officers who searched Mr. Wang's house:
Bao Yuquan, Xinzhan Police Station officer: 86-435-3616892, 86-13089297576(Cell)
Others involved:
Jiang Hongjie, Changliu Detention Center doctor who force-fed Mr. Wang: 86-435-3927192
Sun Zhongxia, Changliu Detention Center nurse who force-fed Mr. Wang
Zhang Xiaoxu, Xinzhan Police Station officer: 86-13944596115(Cell)
Officials at Changyaogou Forced Labor Camp:
Wang Zhiming, chief: 86-431-84835680 ext8001(Office), 86-13814316466(Cell)
Wei Guoliang, political head: 86-431-84835680 ext 8002(Office), 86-13840099155(Cell)
Wang Jiangang, deputy chief: 86-431-84835680-8003(Office), 86-13904306009(Cell)
Yu Tie,Xinsheng Division head
Liu Yu, Zhang Junhai and Qian Jianguo: camp deputy chiefs
Li Hongbo, procuratorate head in the Chengjiao District, Changchun: 86-13756673687(Cell), 86-431-88985329 (Office)