Philadelphia: World Falun Dafa Day Celebration (Photos)
May 19, 2008 | By a practitioner in Philadelphia, USA
(Clearwisdom.net) May 13, 2008, was the 16th anniversary of Falun Dafa's introduction to the world and also the 9th World Falun Dafa Day. Many practitioners from the greater Philadelphia area came to Chinatown on the afternoon of May 11 to celebrate this special day. Sixteen years ago, Mr. Li Hongzhi, the founder of Falun Dafa, started teaching publicly in Changchun City, Jilin Province, China. In 1997, the practice arrived in Philadelphia. As of today, Falun Dafa has attracted over one hundred million people around the world. The practice transcends race, language, and culture and brings people good health and high moral standards.
Demonstration of the Falun Dafa exercises in Philadelphia's Chinatown on World Falun Dafa Day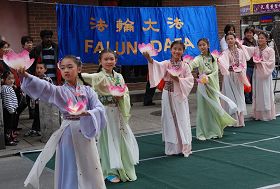 Students from the Minghui School in Philadelphia perform at the celebration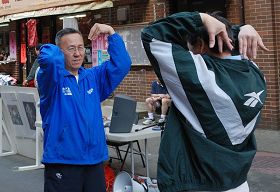 A passerby learns the exercises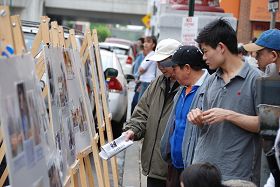 Displays to clarify the truth about Falun Dafa
At the celebration, practitioners demonstrated the five exercises, sang songs written by practitioners, and young students from the Minghui School performed dances and on waist drums. Some passersby wanted to learn the exercises, and some quit the Chinese Communist Party (CCP) after they learned about the persecution of Falun Dafa in China. Others signed a petition to protest the persecution and took truth-clarification materials. A few people even brought over drinks for the practitioners.
At the end of the day's activities, practitioners got together and took a picture to wish Teacher happy birthday.
During the event, a number of practitioners shared how they have benefited from the practice. Several of the day's participants were once imprisoned or tortured for practicing Falun Gong when they were in China. One practitioner has a family member who is currently imprisoned.
Finding her roots
Ms. Tsai graduated from Beijing University and came to the U.S. in 1995. After seeing that many people practiced Falun Dafa on campus, she read the book Zhuan Falunand found that the teachings resonated with her. Later she realized that when she followed the principles in the book, she could resolve the things she encountered in school and in daily life better and faster.
Tsai also said she didn't know much about traditional Chinese culture and history and did not know how profound the culture was when she was in China, because she was only taught to love the CCP. After coming to the U.S., she saw a lot of truths that were invisible in China and gradually she found her roots, free of the CCP culture. She said she is proud to be Chinese when she learned that Falun Dafa had spread to so many countries and won recognition from many people. She knows a lot of practitioners from many countries and ethnicities, and they all respect Mr. Li Hongzhi from the bottom of their hearts.
Woman from Beijing calls upon the CCP to stop the persecution of Falun Dafa
Ms. Wang from Beijing said at the rally, "China's economy has taken off fast. How come a country with such great development couldn't stand an older Falun Dafa practitioner like me? After the persecution started in 1999, one day a police officer came to my house to prohibit me from doing the practice. I asked him why he didn't stop me in 1994 when I started. All my illnesses had disappeared because of the practice and I had no intention to stop. He wouldn't even allow me to do the exercises at home."
Wang came to Philadelphia in 2005 because she couldn't stay in China anymore. Because of the practice, she was once imprisoned. Wang still knows many practitioners who are imprisoned In China. They are kind people and the only "crime" they committed is practicing Falun Dafa.
"There were 100 million people in China alone that practiced Falun Dafa in 1999. It saved the country so much money in medical care! The CCP went against the will of its people and cracked down on the practice," said Wang.
Reborn because of the practice
Another Ms. Wang from Beijing started the practice in 1995. "I was suffering from many illnesses and lost my faith in life. Several months into the practice, I was physically and mentally healthy. I was reborn." She was imprisoned before coming to the U.S. in 2002.
"In a dispatch center in Tuanhe, Beijing, a dozen practitioners were locked in a room less than 100 square feet. There wasn't any air conditioning in the summer. Windows were wide open in the winter and the blankets were so beat up that we couldn't stay warm and fall asleep at night. There were only a few toilets. All of us had to finish using the toilets during the same five minutes. If you couldn't or didn't get to do it, you would have to wait for hours until the next round. People often were forced to urinate or defecate in their pants. We were not allowed to bathe or wash our clothes for several months. Living in such terrible conditions, we were still forced to do labor like wrapping chopsticks, stringing pearls, and putting together boxed medicine. We worked in the place we lived, and we were not allowed to wash our hands before work. The wraps and chopsticks often fell on the ground. Products made in China are so cheap because of our free labor. Disposable chopsticks are extremely unhygienic," said Wang. "I can never forget the tortures I went through and the persecution I witnessed. I am free at last, but what about those who are still in China?"
Cui Fushuang: Zhuan Falun resolved my doubts about life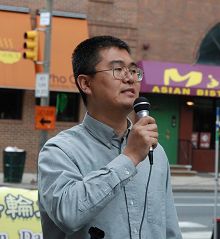 Cui Fushuang works for DuPont
Cui Fushuang came to the U.S. in 1998 and is currently working for DuPont. Cui said that after he graduated from the Chinese Academy of Science in China in 1997, he was too weak to continue his PhD studies. He took one year off and searched various means to heal his illnesses. After he came to the U.S., he attended a Falun Dafa class and became a practitioner. He said that Zhuan Falun resolved many of the doubts and questions he had in life.
Russian Practitioner: All my illnesses disappeared after I started the practice
Russian practitioner Ms. Nina Meltser said that all her illnesses disappeared after she started practicing Falun Dafa and she didn't have a bad temper anymore. The practice helped her a lot in improving her character. She gets along with others now and all her family members also practice Falun Dafa. She said that the CCP's persecution of Falun Dafa is wrong and more than 36 million Chinese people had already quit the CCP because they had lost hope in it.
Doctor of Psychology: Falun Dafa brings a new goal to life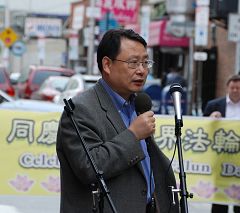 Yang Jingrui is a doctor of psychology
Yang Jingrui is a doctor of psychology at the Thomas Jefferson University Hospital. He started the practice in 1998. He said that when he arrived in the U.S. in 1998, he had to deal with problems such as making a living and passing tests to be qualified to practice medicine. He was under tremendous pressure and it was at that time when he came across Falun Dafa. "Falun Dafa improved my health and stopped me from smoking, drinking and getting angry a lot. It enhanced my moral values. Falun Dafa not only brings back traditional Chinese culture but brought new goals to my life. In China, the CCP persecutes such a benevolent group of people, including my sister, a 60-year-old lady who has no political pursuit and just wants to peacefully practice. She is in prison right now," said Yang.
"Chinese people are industrious, kind and brave. After the CCP came to power, it frequently created tragedies over and over again. I want to tell the Chinese people living overseas to cherish the freedom and democracy we have in the U.S."
Dr. Corson: Falun Dafa helps people physically and mentally
Dr. Yang introduced Dr. Corson, who is also a doctor, to the practice. Dr. Corson said, "I specialize in curing Lyme disease and am always searching for treatments for it. I even tried acupuncture. Dr. Yang introduced me to Falun Dafa. I got the books and information about Dafa from the website. I have changed a lot since I started the practice. Problems in life became a challenge I had to conquer because this is the path one must go through if one wants to improve. Looking at it from a doctor's point of view, Falun Dafa helps people physically and mentally."
Zhang Gaoren: Bone spurs disappear after the practice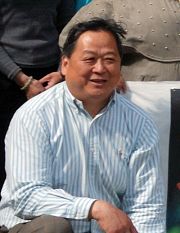 Zhang Gaoren regained health after practicing Falun Dafa
Zhang Gaoren, another practitioner, said, "I used to have bone spurs in my neck and spine. It hurt so much. Doctors told me that the success rate of an operation was 50 percent and I would become paralyzed if the operation failed. I had been surviving on painkillers. I heard about the persecution of Falun Dafa in 1999. I didn't trust the CCP because it said no one died during the June 4th massacre in 1989. If it criticized Falun Dafa, then Falun Dafa might very well be good. I found the book (Zhuan Falun) and became a practitioner since then. I didn't want to cure my disease at the time but soon I found myself not needing painkillers anymore. It's been nine years and I never touched any again."
Mia: Happiest day of my life when I learned Falun Dafa
Mia started practicing Falun Dafa in 2002. She worked in a biology research institute. Mia said, "I come from Romania. The happiest day of my life was the day I learned Falun Dafa. Romania used to be communist and I knew how communists persecute people with beliefs. I can imagine how inhumane and brutal the persecution of Falun Dafa is in China. I hope it ends soon and practitioners in China, where the practice started, can practice openly and freely."
Ms. Sun: Falun Dafa saved my life
Ms. Sun is 66 years old and she learned Falun Dafa in June 1994 in Zhengzhou City. She described how she benefited from the practice. "Falun Dafa saved my life and helped me to preserve my kind nature and improve my moral level. I have been physically weak since I was little. People called me names such as 'half-life,' meaning my life was in danger any time. Two weeks into the practice, my headaches, stomachaches, liver problems, enteritis, constipation, insomnia and arthritis were gone. In less than two years, my pulmonary emphysema that caused my chest and heart to be deformed was healed. Now I can cook for my children and grandchildren, do laundry and vacuum the floor. I didn't dare to dream about doing these before I started to practice Falun Dafa!"