Boston: Practitioners Express Gratitude to Master Li (Photos)
(Clearwisdom.net) On May 11, 2008, Falun Dafa practitioners in Boston celebrated the ninth World Falun Dafa Day in the Boston Chinatown park. They were celebrating the 16th anniversary of Falun Dafa's introduction to the world, and wishing Master Li a happy birthday.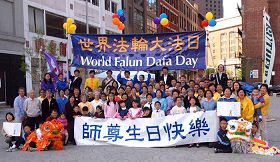 Practitioners in Boston wish Master a happy birthday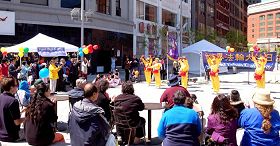 Audience watches waist drum performance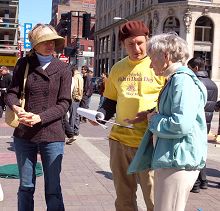 Practitioner collects signatures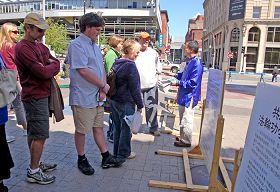 People reading poster boards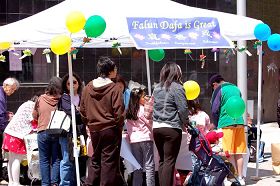 Falun Dafa booth
The park in Chinatown was chosen as the location to celebrate World Falun Dafa Day. The celebration attracted a big crowd since it was Mothers' Day as well.
At 11 a.m., a representative of the New England Falun Dafa Association gave an opening speech. He encouraged everyone to learn Falun Gong. He said, "knowing the truth will bring fortune. I hope all of you will remember that Falun Dafa is good, and Truthfulness-Compassion-Forbearance is good. I wish for you all to have a wonderful future."
A series of performances followed his speech, such as the theatrical piece "Drummers of the Tang Court," saxophone music, guitar music, Falun Gong exercise demonstrations, a puppet show, Tang-style women's dance, keyboard piano music, a choir performance, a martial arts demonstration, waist drum and flute performances, and even cultivation experience sharing and a question and answer session. Minghui School students performed the lion dance, martial arts, recited Hongyin poems, and sang in the choir. Throughout the whole day, there were booths teaching Falun Gong, a Truthfulness- Compassion-Forbearance Art Exhibit, teaching people to fold paper lotus flowers, and booths collecting"One Million Signatures Opposing the Persecution."
People Come from Far away
Mr. David Chen came from New York, and he brought his mother from Boston, his daughters Hadley (6), and Shaylin (5), and his niece and nephew Karina and Nathan. The children were so happy watching the lion dance, they could not stop clapping. Mr. Chen expressed that he would like to learn more about Falun Gong when he has a chance. A couple from Asia had learned the Falun Gong exercises while touring Boston.
Listening to the Performance
Mr. Rosair Marquis brought his mother. He said he knew the Communist Party was persecuting Falun Gong from media reports. He knows that Falun Gong is a peaceful practice that benefits both the mind and body, and he opposes the persecution. His mother is blind, so she listened to the performance.
Learning Something New
Ms. Zhu was watching the show together with her relatives' child. She is 51 years old, and she left China when she was 22. She said she knew how miserably people lived under the CCP's rule, and she often saw Falun Gong practitioners doing the exercises in Chinatown and watched the Thirty Million Withdrawals from the CCP event, but she was not very clear on what Falun Gong was. That day, after the Falun Dafa practitioners explained, she finally learned that Falun Gong has spread over eighty countries worldwide and the origin and meaning of Falun Dafa Day.
Turning Sympathy into Support
Chinese traditional doctor Ms. Luo Xinglan came from Hong Kong twenty years ago; she had contact with Falun Dafa in 1995 and enjoyed the serene and calmness of the exercise music. She has been very sympathetic to practitioners being persecuted in China. She came to this celebration intending to show her support, and she brought her friends as well. She further learned about the cruel persecution and expressed her hope to be able to help practitioners in mainland China in various specific ways.
Testimony of Improved Physical Health
Ms. Jessica D'Alessandro lives in Boston. She had near death experience when she was 15, and after that she has been very interested in cultivation and upgrading mind nature. She knew Falun Dafa was the school that she had been waiting for when saw the Falun image two years ago. She said, "I am a true testimony of how Falun Dafa can improve the mind and body."
Thanking Master on Falun Dafa Day
Ms. Li Ying, 72, is a practitioner from Boston. She said in her speech, "Thank you, our great and benevolent Master! Thanks to Falun Dafa! You liberated me from miserable illnesses, changed me from an unwise person to a blissful cultivator because both my mind and body are healthy! I hope that all of you will share my happiness from the bottom of my heart. Thank you, Master!"
Official Congratulations and Recognition
Massachusetts state officials wrote congratulations and recognized "World Falun Dafa Day." Congressman Stephen F. Lynch presented a certificate of special congressional recognition. Senator John Tierney sent his best wishes to the annual World Falun Dafa Day celebration and expressed his concern for human rights in China, Jeannette A. McCarthy, Mayor of the city of Waltham, declared the week of May 11, 2008 to May 17, 2008, as Falun Dafa Week honoring Truthfulness-Compassion-Forbearance, State Senator Richard Tisei extended Congratulations to Mr. Li Hongzhi in recognition of the 9th Anniversary of World Falun Dafa Day, and House of Representatives members of the state offered a official congratulatory document to Mr. Li Hongzhi and Falun Dafa recognizing the 2008 World Falun Dafa Day.
May 13, 2008