Swedish Audience : "The Divine Performing Arts Spectacular Is a Wonderful Gift" (Photos)
April 05, 2008 | By Minghui reporter He Ping in Sweden
(Clearwisdom.net) On March 24, 2008, the Divine Performing Arts presented its second show in Stockholm during the Easter holidays. Easter is the day to celebrate the resurrection of Jesus; it is a significant day in Western tradition and symbolizes hope and rebirth. The Divine Performing Arts brought a special holiday gift to the Swedish people, and many attended the show as an important event during the holiday season.
On the night of the show, the Cirkus Theater was filled to capacity, and the audience response was overwhelming. Many members in the audience expressed to reporters their praise for and enjoyment of the show.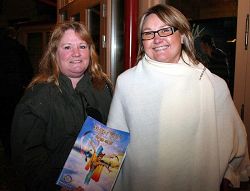 Surgeon Bitti and her sister, Annki
Ms. Bitti is a surgeon. She invited her sister, Annki, a nurse, to attend the show during their holiday. After the show, Annki was eager to respond to an interview. She said, "I really thank my sister for inviting me to this show. It was great! I liked all of the programs. Every act was fantastic. I liked the waves in 'Water Sleeves.' It was amazing how they could represent wonderful ripples. In the 'Mongolian Bowl Dance,' they balanced the bowls on their heads perfectly."
"I really liked seeing such vibrant colors. They really touched my heart. I understood all of the performances. Most importantly, I learned that Falun Gong [practitioners] believe in 'Truthfulness, Compassion, Forbearance.' That is great."
Finding out that the show cannot be presented in China, she said, "To me that is very regretful. As a Swede, I think everyone should enjoy the same freedoms as we do, be able to say what we want, and not be persecuted for what we say. If you are a religious person, you can have your own religious belief, you should have freedom of belief and religion."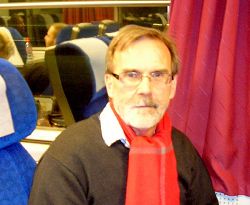 History teacher Janhadell
Janhadell is a history teacher and lives in Enk ping. When the reporter asked Janhadell why he traveled to Stockholm to see the show, he replied, "I am turning 60 next month, and a relative gave me a ticket to the show as a present." When the reporter asked for his feedback, he replied, "The show was very good, the music was great, but the dancing was even better. My favorite dance was 'Nymphs of the Sea.' It was so beautiful!"
"I just cannot understand why the Chinese Communist regime did not want the show to come to Sweden, and I don't know what right they have to intervene. This is in Sweden. It is impossible for them to succeed in interfering with such a show," said Janhadell. "I liked this present very much. I would like to recommend this show to my friends and relatives."
"The show delivered traditional Chinese culture and a message of 'Truthfulness, Compassion, Forbearance.' That is unprecedented."