Young Practitioners Promote Chinese Culture at Philadelphia Middle School (Photos)
(Clearwisdom.net) The young students from the Philadelphia Minghui School were recently invited to perform dances at General George A. McCall School during its annual Chinese New Year celebration. The McCall School has students from kindergarten to eighth grade, and about 43% of its students are Chinese. In addition, the school has many Chinese teachers.
Philadelphia Minghui School students present "Lotus Flowers"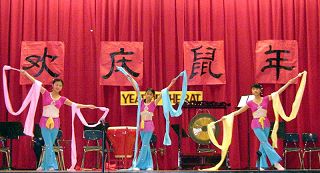 Philadelphia Minghui School students present "Song of Hope"
During the annual celebration, several young practitioner-students from the Minghui School presented two dances, "Lotus Flowers" and "Song of Hope." While the former depicts the purity and innocence symbolized by lotus flowers, the latter portrays compassion bringing hope to the world. The elegant performance was met with warm applause from the audience.
After the celebration, many McCall teachers took photos with the young practitioners. They all commented that the dances and costumes were very beautiful.