Chinese Doctor: The Spectacular Demonstrates Divine Culture (Photos)
March 05, 2008 | By Minghui reporter Delong
(Clearwisdom.net) The Divine Performing Arts held the last show of the Chinese Spectacular in Paris on March 2.
The theatre
Dr. Huang, who immigrated to Paris from Shanghai 10 years ago, is a brain doctor in Paris. After the show, she said, 'The performances were well organized. The performers perfectly demonstrated the divine culture of China."
Dr. Huang continued,"We love our home country, although we live overseas. So I appreciate the arts troupe's contribution to promoting Chinese culture in the world. One of my friends recommended the show to me. She told me the show gets better and better each year. So I came, and found it was great."
A French reporter didn't want to leave after the show. She said, "The show was great. I was enthralled in the drum dance and the Erhu solo. The other dances were beautiful too. I plan to read the program again in detail to better understand the meaning behind these dances."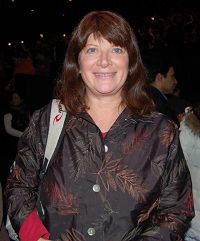 A French reporter