Tainan City Council Member: Divine Performing Arts Plays a Special Role in Raising Awareness (Photo)
March 05, 2008 | By Huang Yu-sheng, Minghui/Clearwisdom reporter in Tainan
(Clearwisdom.net) Tainan City Council Member Lee Wen-cheng found time to come see the Divine Performing Arts Chinese Spectacular, despite his tight schedule. He believes that the arts transcend all boundaries, and through artistic performances, people can not only enjoy themselves, but can also learn about and be concerned about things that are happening in the world.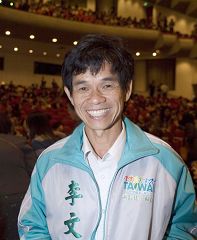 Tainan City Council Member Lee Wen-cheng said of the show: It's worth seeing. I'll come again next year
Besides the exquisite dance performances, Mr. Lee also appreciated the vocalists' solid skills. He said that they rendered the significance of the truth of life so well that he was inspired. He believes that this artistic performance can play a special role in helping the international community learn about the persecution of Falun Gong practitioners at the hands of the Chinese Communist Party. He knows that practitioners are persecuted for following Truthfulness-Compassion-Forbearance, but many people ignore this fact. Stopping the persecution requires more people's efforts and concern.
Mr. Lee said that throughout the final show of the Divine Performing Arts Chinese Spectacular in Tainan, from the audience's enthusiastic response, it was clear that the performance was of the highest standard. He said he was honored to attend the show He knows that many of his colleagues and friends had seen the Spectacular, and he plans to introduce the beauty of Divine Performing Arts to more people.