Australia: VIPs Welcome and Congratulate the Chinese Spectacular (Part 1)
March 30, 2008 | By Minghui reporter Luo Na
(Clearwisdom.net) The Divine Performing Arts (DPA) started its tour of Australia on March 27. Prior to the first Chinese Spectacular show, which was held in Melbourne, more than 60 letters of congratulations were received from Australian VIPs.
The Divine Performing Arts held several shows in Australia last year, which attracted and amazed the Australian audiences. The VIPs wished the DPA a big success again this year.
Greetings from Federal MP Chris Bowen
Assistant Treasurer; Minister for Competition Policy and Consumer Affairs
My name is Chris Bowen, I am the assistant Treasurer of Australia, the Federal Member for Prospect. I'd like to take this opportunity to wish everybody watching, a very Happy New Year of the Rat. Congratulations to NTDTV on this wonderful initiative. Congratulations to everyone involved in this Divine Spectacular. This is the third year I have wished a happy Chinese New Year through this media. Once again, I hope everybody watching has an enjoyable, healthy, prosperous and lucky New Year of the Rat, and more importantly that we see freedom and democracy spread throughout the world. Thank you.
Greetings from Federal MP Christopher Pyne
Justice, Border Protection; Assisting Shadow Minister for Immigration and Citizenship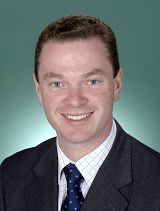 China has a rich 5000-year history from which the world has learned much and will learn much in the future. The Chinese Spectacular brings that history to life through theater, and song and dance, and it is a marvellous performance by overseas Chinese being taken around the world to inform and enrich the lives of non-Chinese people who go to the performances or see the DVDs and also for the Chinese community around the world who wish very much to stay in touch with their culture.
New Tang Dynasty TV is bringing the Chinese Spectacular to Australia in April, visiting five cities and my own city Adelaide included. It is a wonderful opportunity for Australians and Australian Chinese to see a most marvellous performance showing Chinese history and culture for themselves and their children.
I am eager to see as many people as possible attend the performances so they can learn about Chinese culture and also to support what is a very important part of Chinese culture. This is the Year of the Rat and what better way to enjoy the Year of the Rat than to visit and enjoy the Chinese Spectacular. I wish all Chinese a happy New Year of the Rat and look forward to seeing the production come to Adelaide in April.
Ian Macfarlane, Federal Member for Groom, Shadow Minister for Trade
Welcome to the 2008 Chinese Spectacular.
It is an honor to take part in this important occasion as we celebrate the Chinese New Year and welcome in the Year of the Rat.
Australia and China have strong connections and I know that Australians have great respect for and interest in the ancient culture of China.
Events like the 2008 Chinese Spectacular are a great way to bring together all members of our community to take part in a world-wide celebration.
Congratulations on yet another colorful and breathtaking display.
I am sure the tour will be just as popular across Australia as it has been in the past, and I wish everyone all the best for a safe and prosperous New Year of the Rat.
Ian Macfarlane MP
Federal Member for Groom
Shadow Minister for Trade
Greetings from Federal MP Malcom Turnbull
Shadow Treasurer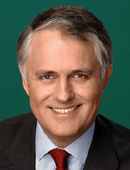 I'm Malcolm Turnbull. I'm extending my very warmest greetings to all viewers of New Tang Dynasty Television in Australia and around the world during the Chinese New Year, the Year of the Rat. During this very happy festival time, I wish all Chinese people good health and a happy New Year. I hope everyone, from the west and the east, will enjoy the Spectacular hosted by New Tang Dynasty Television, which will showcase the true beauty of the 5000 years of Chinese culture. Please accept my very best wishes for a most enjoyable event and for a joyful, healthy, and prosperous Year of the Rat.
Greetings from Minister of Education in Victoria, The Hon. Bronwyn Jane Pike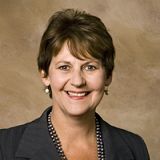 I'd like to take this opportunity to wish all Chinese-born people in my electorate in Melbourne and in Australia and around the world a very happy Chinese New Year.
First for me is to welcome the Chinese Spectacular to Melbourne. It is a wonderful opportunity for us to experience magnificent Chinese culture, so we are looking forward very much to seeing the Chinese Spectacular when it comes to our city.
Greetings from NSW State MP Christopher Peter Hartcher
Shadow Minister for Water Utilities, Shadow Minister for Local Government, Shadow Minister for Housing, Shadow Minister for the Central Coast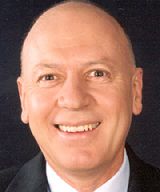 Hello, I'm Chris Hartcher. I'm a member of the Parliament, New South Wales Australia. I'd like to extend to everyone watching this program and to all Chinese communities throughout the world a very happy New Year. I hope the Year of the Rat brings you prosperity and long life. Why not start off the New Year by coming along to the great Chinese Spectacular, which will be brought to you by NTDTV, and it will be fantastic. Anyone who has seen the Spectacular knows it's the single best way to launch the Chinese New Year. Come along, enjoy and welcome to the Year of the Rat
Greetings from Brisbane Mayor Campbell Newman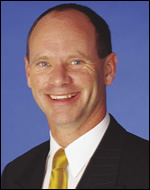 Good day. I am Campbell Newman, Lord Mayor of Brisbane. I extend my greetings to the viewers of New Tang Dynasty TV. I also wish everybody across Brisbane a happy and exciting year 2008, the Year of Rat. I think it is incredibly exciting that we have such a diverse, multicultural city today. But particularly we have so many people with a Chinese background. In fact 20f people in Brisbane speak Mandarin or Cantonese. There is a wealth of wonderful events and happenings across the Chinese New Year period. But it'll be great for people to go the Convention Center in April and go to the Divine Performing Arts Chinese Spectacular. Anyway, I toast everyone across the city and extend to them wonderful festivities and greetings for the Chinese New Year period.
Greetings from Mayor of the City of Ipswich Queensland, Paul Pisasale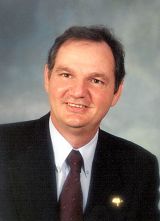 On behalf of people of Ipswich it gives me great pleasure to congratulate the New Tang Dynasty Television (NTDTV) in again bringing the fabulous Chinese Spectacular to Australia.
As we celebrate the Year of the Earth Rat, the community of Ipswich remains proud of the relationship we have built with the Chinese community.
According to traditions of the Chinese horoscope, those born in the Year of the Rat are natural leaders with a strong drive for success. Rats are charming and hard-working perfectionists. Rats are one of the most intelligent of the zodiac signs, with a strong sense of curiosity and powerful imagination. They enjoy taking on responsibility.
Earth Rats are very stable, establishing solid roots early in their lives as a strong basis for their future successes. They take a slow and steady approach to acquiring wealth and influence, avoiding risks which could compromise their achievements.
In Ipswich, we would like to think that we share some of the characteristics of the Rat. We are hard-working with a strong drive for the success of our wonderful city. We can and do make things happen. We feel a responsibility for our community and enjoy establishing strong relationships with other sectors to strengthen our position as a major player in southeast Queensland's future. In fact, Ipswich is experiencing the most rapid period of development in the history of our city, attracting investment and interest from all areas, and we are keen to welcome any new partnerships which will continue to take us forward.
NTDTV is enjoying similar success as the world's first independent Chinese satellite television network. NTDTV is recognized as the world's largest Chinese-language television network in the overseas Chinese community, with reporters and correspondents in more than 50 cities worldwide.
I applaud NTDTV's success in fostering cross-cultural understanding through its many projects including its hosting of the 2008 Chinese Spectacular. I'm sure the event will continue its success with Australian audiences this year as we embrace and celebrate the skills and commitment of all involved.