Taiwan: Local People Express their Delight with DPA Chinese Spectacular (Photos)
(Clearwisdom.net) (Reporters Zou Rong, Huang Yusheng from Taipei) Last year, Quarantine Bureau director Song Huacong and his wife missed the performance of the Divine Performing Arts but this time they watched the last performance in Taipei on March 18. He happily expressed that the performance deserved its reputation and that he was deeply moved.

Quarantine Bureau Director Song Huacong
He said that the biggest difference between this performance and other shows was that you felt very happy and relaxed after watching the show. He was deeply impressed by "Truthfulness-Compassion-Tolerance" depicted in the program. He said that he hoped "Truthfulness-Compassion-Tolerance" could always be in people's hearts and that would bring more peace, sympathy, and happiness to society.
Translated from http://minghui.ca/mh/articles/2008/3/19/174710.html
History Museum Curator Enjoys the Show
(Reporter Liu Wenxin from Taipei) On March 18, History Museum curator Huang Yongchun and his wife managed to watch the last show at Taipei. After the performance, he delightfully accepted our interview, "I am honored. I am honored. I am moved by such a performance. It is a professional and large-scaled performance."
Curator Huang has worked at the history museum for 38 years. His art and culture accomplishments are as deep as his work experiences. He stated that the performance is outstanding and it broadens people's outlook. It is convulsive in the combination of religion, the Chinese spirit, and various quintessences of the country.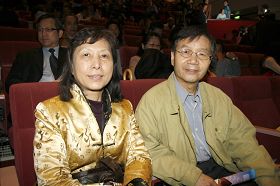 State-owned History Museum curator Huang and his wife
Huang Yongchun said, "It is so beautiful. I am surprised that Chinese history is so long, so wide and all-inclusive, not just like what we think. It not only has the so-called Han Dynasty and Tang Dynasty. The performance includes different nationalities and different historical dynasties and it is very wide. But the whole performance is connected to the Han and Tang dynasty spirit."
Translated from http://minghui.ca/mh/articles/2008/3/19/174709.html
Local Businessman Enjoys the Show
(Reporter Zheng Yuhan from Taipei) Former Vice Mayor of Taipei, present board director of the Taipei Bank Commonwealth and Charity Foundation, Bai Xiuxiong and his wife watched the last performance of the Divine Performing Arts in Taipei's International Conference Center on March 18, 2008. During intermission, he accepted an interview and his first words were, "Marvelous. The dances are very beautiful, especially the Drummers of the Tang Court."


Bai Xiuxiong, former Vice Mayor of Taipei
Bai Xiuxiong found that the Chinese Spectacular was very well performed. Taking the Risen Lotus Flower as an example, he said that through the performance, people naturally knew what happened (referring to the persecution of Falun Gong) and thus support Falun Gong.
Bai was deeply moved by the backdrops and stage design. He said, "Altogether, I think that they do it very well. They control every process very well and very attentively. I feel that the choreographers and dancers are very professional in every aspect and they are very concerned about everything. The arrangement of the performance is just at the right level, no matter whether costumes, music, dance, or content."
Just before departing, Bai Xiuxiong said firmly, "I will come again! I will recommend to my friends to come to watch the Chinese Spectacular!"