(Clearwisdom.net) On the afternoon of March 1, the second Spectacular show in Tainan once again played to a full house. Some organizations, including several schools and hospitals, arranged charter buses for their employees and students to attend the show. Many audience members said that the show was very powerful and touching.
(Clearwisdom.net) At 3:00 p.m. on March 1, Divine Performing Arts presented their second show at the grand Palais des Congrès in Paris. It seemed that the gloominess of the previous day had been cleared away by the first Divine Performing Arts show the day before. It was a clear and sunny day and the air was especially fresh, which seemed to bring more vigor and energy to the second show. The performance elicited thunderous applause from the audience throughout the afternoon. Each time the curtain opened, cheers and applause would break out from the audience. Parisians were deeply moved by the oriental divine arts that haven't been seen for ages.
(Clearwisdom.net)
The Divine Performing Arts Company arrived in Taiwan on February 28. The Vice President of Taiwan, Ms. Annette Lu, sent a congratulatory telegraph to the Divine Performing Arts and called its performances "delicate and elegant, yet thought-provoking." The first stop of the tour was the ancient capital of Tainan. Mayor Hsu Tain-tsair and County Magistrate Su Huan-chih also sent letters wishing the performances a success.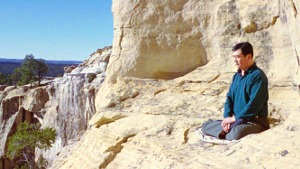 Master Li quietly watching the world from amidst the mountains after leaving New York following July 20th, 1999. (Published January 19, 2000)