Swedish MP: The Chinese Spectacular Conveys an Important Message (Photos)
March 29, 2008 | By Minghui reporter Liu Wenxin
(Clearwisdom.net) The Divine Performing Arts Chinese Spectacular presented its third show at the Circus Theater in Stockholm, Sweden on March 25, 2008. Dignitaries including Swedish government officials, entrepreneurs, and artists attended the show.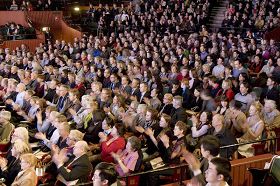 Enjoying the show
Lennart Sacrédeus, a Swedish Member of Parliament, attended the Spectacular and spoke with the reporter. He said, "I've just returned from Japan, my very first trip to the Far East, and this performance here in Stockholm portraying historic Chinese culture has enhanced that experience."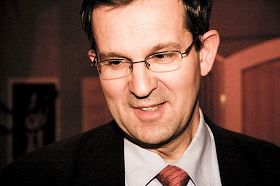 Lennart Sacrédeus, Swedish Member of Parliament
MP Sacrédeus thought that the Divine Performing Arts had a lot offer the Western world. He said, "Our culture, I find, places has too much emphasis today on aggressiveness, selfishness, and lack of historical depth."
"The beauty of the costumes and the cleanness of the colors is just a gorgeous sight. Purity is the word. It was a worthwhile trip tonight." He said, "I have never been to China, and I have a very shallow knowledge of Eastern culture, but I liked 'Nymphs of the Sea' and was deeply impressed by the backdrop."
"'The Drummers of the Tang Court' was extremely impressive. I especially counted just 15 performers on the stage, but it seemed like a big army. It was very impressive."
He said, "I think all of it has been just beautiful. I heard from someone who introduced the show that it would be amazing, and it certainly lived up to its name 'spectacular.' "
Unique style and well-thought-out production
"What impressed me also was some of the text describing what is happening in China. The resistance to the persecution has been presented in a very impressive and genuine way. I think that has been put into this performance in a distinguished, but also very well-thought out, way. I was very pleased, because the message it tried to convey is very important."
He continued, "It is not pure entertainment. I has a message and that is why it has been so dangerous for the CCP. So I can of course understand why, that's the way the system works, and that's what we want to remove in order to make China a beautiful democracy."
MP Sacrédeus concluded by saying, "I like the beauty of the dancers' eyes--they expressed something deeply spiritual, something good in their hearts. I haven't always been a Member of Parliament. I'm originally a high school teacher, and it makes you happy as a teacher to find the beauty in the eyes of your students and see that they grow spiritually and knowledge-wise. This is something that comes through from the spirit through the eyes of performers out to the audience in this performance."