Musician from Stockholm: "Magnificent!" "Perfect!" (Photo)
March 29, 2008 | By Minghui reporter Chen Zhenghong
(Clearwisdom.net) The Divine Performing Arts (DPA)Touring Company presented the second show of the Chinese Spectacular on March 24, 2008, in Stockholm, the capital of Sweden.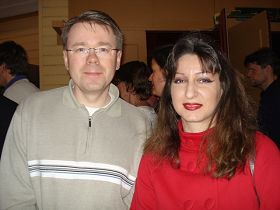 Organist Corinne Robert and her husband, Michael Robert
Organist Mrs. Corinne Robert and her husband, Mr. Michael Robert, were very animated during the intermission and pleased to share their impressions of the show.
Mrs. Robert repeatedly expressed her fondness for the Chinese Spectacular, saying, "It's magnificent, absolutely magnificent, especially the cultures, the costumes, the choreography, the dancers--everything is perfect. I am so touched, because I am an artist, and I get inspiration when I see that. I have a concert here in Stockholm in two weeks so I got lots of ideas of how to perform."
"I like it because it's a part of your (Chinese) culture, the historical facts. We have the dances, the songs, the history, the beauty, the things happening in China (the persecution of Falun Gong), the classical music with the piano (Erhu performance 'Redemptive Salvation'). It is all very nice."
Michael Robert works as a technician. He said, "I love the show--it's very good. Very nice costumes, everything is perfect. All of the programs have impressed me. The drummers ('The Drummers of the Tang Court') were especially good. The dance with the sea ('Nymphs of the Sea') was very nice, that impressed me the most so far."
After the show, the couple said they had learned a lot more about China and Chinese culture.