Houston, Texas: Falun Gong Practitioners Display Graceful Demeanor in St. Patrick's Day Parade (Photo)
March 19, 2008 | By Minghui reporter Shu Jing
(Clearwisdom.net) Houston is known for its diverse blend of cultures, and its citizens enjoy celebrating many different ethnic festivals. Celebrating St. Patrick's Day is an Irish tradition, which came to to America with immigrants from Ireland. The St. Patrick's Day Parade held in Houston attracts many companies and businesses as well as cultural groups, reflecting the city's diversity and providing an opportunity for the various groups to learn about one another. This year, Falun Gong practitioners participated in the parade for the first time. They displayed traditional Chinese culture and were warmly received by the local people.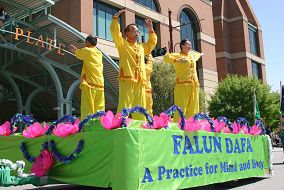 Falun Gong practitioners in bright yellow exercise costumes demonstrated the Falun Gong exercises to the spectators along the parade route
The 49th St. Patrick's Day Parade in Houston was held on March 15, 2008, a pleasant day in downtown Houston. Parade entrants decorated their floats with green, and the Falun Gong practitioners' float was no exception. Along the parade route, many spectators wore green hats, green pants and socks, and held green umbrellas, adding to the festive atmosphere.
The parade set off at noon on Texas Ave. One hundred and twenty groups marched along three streets and then returned to the starting point. The Falun Gong contingent was led by practitioners in yellow exercise costumes holding a banner reading "Falun Dafa." Behind the banner were the "celestial maidens" who danced gracefully. Following them was a float on which several practitioners in exercise costumes demonstrated the Falun Gong exercises. The spectators were delighted to see the practitioners' special presentations.