(Clearwisdom.net) "Impressive, fascinating, wonderful!" This was the impression left on renowned German historian Professor Arnulf Baring after he attended the Divine Performing Arts Chinese Spectacular at the Berlin International Congress Center on March 14, 2008. He appreciated the grand-scale dances, with dozens of dancers moving in sync, and the combination of beautiful costumes, backdrops and dances. He found the last drum dance, "Victory Drums" very powerful. "The dancing by the men was powerful and impressive, including the banishing of the specters and the strengthening of the good powers inside each human being with the drums."
(Clearwisdom.net) Taichung City News Bureau Chief Chen Yongfeng attended the final Chinese Spectacular show performed by the Divine Performing Arts in Taichung on March 11. He praised the performance, stating that it perfectly displayed the connotation of five thousand years of traditional Chinese culture on stage again.
(Clearwisdom.net) The Divine Performing Arts Company of New York held five shows at the National Chung Hsing University in Taichung, which received many compliments. Audience members with artistic professions and backgrounds were especially complimentary. People felt the Divine Performing Arts Company was different from other performing groups, and some audience members said the stage felt like an energy field, a field of compassion and peace.
~ Shen Yun Performing Arts ~
~ Rallies & Protests ~
~ Other Community Events ~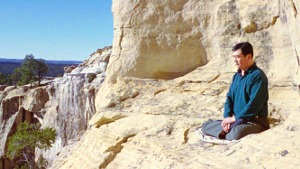 Master Li quietly watching the world from amidst the mountains after leaving New York following July 20th, 1999. (Published January 19, 2000)