New York Chinese: "The Best Gift for the Chinese New Year" (Photos)
February 09, 2008 | By Chen Jun in New York
(Clearwisdom.net) The Divine Performing Arts performed the sixth show of the Chinese New Year Splendor at Radio City Music Hall in New York on the evening of February 3, 2008. They received rave reviews from the audience.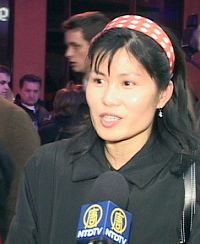 Ms. Chen Xinglian (Phonetic): "The Best Gift for the Chinese New Year"
Ms. Chen Xinglian, a nurse in Brooklyn, New York said, "[The show] is excellent. I suggest everybody go to see it. I regret that I did not bring my children with me, I'll buy tickets for them next time. Very nice to see, thank you. It's the best gift for the Chinese New Year. I'm lucky to see this show. I'm really pleased to see this performance."
Debbie's family: We definitely will watch it again.
Debbie, an ethnic Chinese from New Jersey, said, "We had such a great time at the Chinese New Year Splendor." Her husband agreed, "We really enjoyed it. We definitely will see it again."
Debbie said the show was educational, "My daughter is 11 years old. She understood it and she loved it. We would recommend it to anybody."
Taking about "Lady of the Moon," daughter Jasmine said, "I really like the scene where the suns were shot down. I like the story, the gymnastics. And also it's funny."
When asked what impressed her most, Debbie said, "The dancers, the colors, the costumes. They were really good."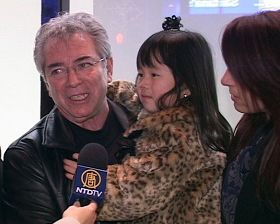 Guy and Donna, who adopted a Chinese daughter said the messages they got from the show are, "Keep peace and have compassion."
Coming together with Debbie's family is an American family that adopted a daughter from China. The mother Donna said, "Wonderful show! Beautiful! Beautiful!" Guy jumped in and said, "We have seen a show in China when we adopted Kouyi, but this is more beautiful. All the stories were great."
When asked what message they got from this show, Guy said, "Keep peace." Donna said, "Have compassion."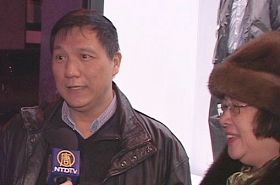 Alex Yan, an FDA chemist said, "I feel proud to be a Chinese."
Emma, who works for the federal government, said, "I loved the performance. Excellent." When asked which one she liked the best, Emma said, "Every one is fabulous. In particular I almost cried at 'The Loyalty of Yuefei'. It's a good legend (in Chinese history). I really enjoyed it."
Alex Yan, an FDA chemist, said, "Very good performance. I really enjoyed it. I feel proud to be a Chinese." Asked whether he would recommend other Chinese to come, Mr. Yan said, "Definitely." Emma followed, "We have been here every year. This was our fourth time (attending this show) already."