Engineer: An Inspirational and Amazing Performance (Photo)
February 08, 2008 | By Minghui reporter He Yu in New York
(Clearwisdom.net)
On the evening of February 2, 2008, the audience at Radio City Music Hall was enchanted by New Tang Dynasty TV's New Year Splendor. A family of four who were seated in front of this reporter were taken through happiness and sorrow by the stories presented through the performances. After the show concluded, the mother described the Divine Performing Arts performance as a magical trip to ancient China, which allayed her regret for not having visited China.
Donna and her husband John both work as computer design engineers. They attended the show with their 17 year old son Patrick and daughter Catharine. Before John and Donna traveled to New York for a conference, a number of their friends had already seen the show and recommended it to them.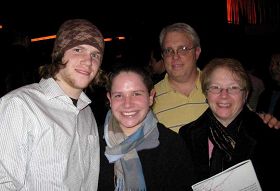 A family of four who attended the Divine Performing Arts Chinese New Year Splendor
"Divine Performing Arts performance is an eye opener"
John said that he felt the show was dazzling and crowd pleasing. He felt the acts presented profound meanings, and were inspiring and entertaining. John said the show was an extraordinary audio-visual and spiritual experience for his family, and was a real eye-opener.
His favorite dance was "Nymphs of the Sea", as the nymphs tread delicately over waves of the ocean they displayed extremely pure and beautiful dance skills. According to John, the depiction of ocean waves through gentle fans and light fabric was very creative. "The music was fantastic and original. I especially liked the Chinese violin (Erhu)," he said.
John has been to Shanghai and Beijing for work-related endeavors, and celebrated Chinese New Year there during one of his trips. He said, "The China displayed in this show was very different from the materialistic and modernized China I visited. The China in this performance is more traditional, and filled with meaning, with spirituality and culture. Between the two, I definitely like the one with deep cultural values. During the show, I didn't expect to see stories of persecution that are happening in China, but I feel people should be made aware of it. Those kind people should not suffer persecution for their belief.
John concluded his description of his experience by saying, "Just like my friends have recommended this show to me, I will recommend it to other friends."
Donna's experience
Donna had always regretted not having the opportunity to visit China. However, the Divine Performing Arts' show was like a magical trip to ancient China, which dispelled her regret. "I love this show! I love the beautiful dances and music. It was fantastic! In movies, Chinese music always seemed very old. However although the music in this show was classical, it was fresh with a contemporary feel. This was so enjoyable! I am very happy my children also enjoyed the show so much."
She expressed her amazement at the show, and said it was an inspiration. Donna felt she came to understand a side of Chinese people which she had never seen, "I now understand, the Chinese people have such a strong pursuit of freedom and the divine. Even while oppressed, they still seek the truth. This is a very important value, and very touching! "
In the dramatic performance, "The Power of Awareness", when the characters of "Truthfulness, Compassion, Forbearance" appeared on the backdrop, the family applauded enthusiastically.
Before they left the theater, the reporter again spoke with the family. Donna said, "I am proud of your ancient culture and wisdom! It is divine and beautiful!"