The "Asian Gazelle," Ms. Chi Cheng, Plans to Recommend the Divine Performing Arts
February 08, 2008 | By Au Manxiong from Kaohsiung, Taiwan
(Clearwisdom.net) The sight of the "Asian Gazelle," Ms. Chi Cheng, singing on stage, dressed in a traditional Chinese outfit is not a familiar one for the well-known Taiwan sports figure. A dynamic individual, Ms. Chi is currently an executive director of the Kaohsiung Organizing Committee for the 2009 World Games in Kaohsiung. When she heard that the Divine Performing Arts was coming Taiwan in March, she was excited by the news and said that she would recommend it highy to her friends.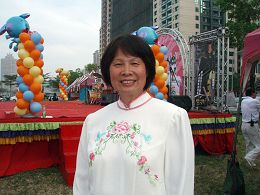 Ms. Chi has been instrumental in promoting health and fitness in Taiwan. As Director of the Hope Foundation and Sports Commissioner of Taiwan, she spearheaded a campaign in 2002 to promote fitness through walking. The simple and effective exercise has become one of the most popular daily routines for the citizens of Taiwan.
Ms. Chi is also an aspiring singer. Ten years ago, she established The Sound of Hope Choir with like-minded individuals and headed the choir herself.
Ms. Chi said that she had heard about the Divine Performing Arts, that it was a fabulous show with beautiful music, colorful costumes, and animated backdrops. Upon being shown pictures of the company's performances, she marveled at the visually stunning production.
She was also shown comments made by Professor Li Chimau of the Taiwan University of Fine Arts, a renowned calligrapher and an art critic, who said that it was the best show that he had seen in 60 years. He said that watching the show was like having his soul cleansed, especially in such a time when moral standards have degenerated so much.
Ms. Chi was born in 1944 and is known for her exploits in track and field. She captured the bronze medal in the 80-meter hurdles at the Summer Olympics in Mexico City in 1968. She was the second athlete ever from Taiwan to win an Olympic medal.