Japan: Minghui School Teachers and Students Once Again Participate in Cultural Festival Held in the Northern District of Saitama (Photos)
February 29, 2008 | By a Falun Dafa practitioner in Japan
(Clearwisdom.net) Japan Minghui School teachers and students participated in the Cultural Festival held in the northern district of Saitama for the second time. They brought traditional Chinese culture and Falun Dafa's beauty to the Japanese people.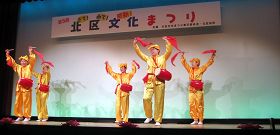 Falun Gong practitioners play Chinese waist drums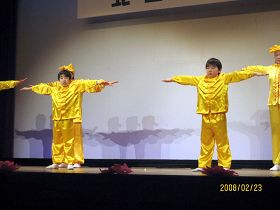 Young practitioners from the Minghui School demonstrate the five sets of Falun Gong exercises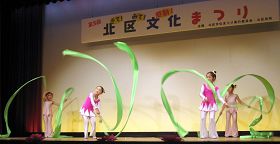 Young practitioners perform a ribbon dance
At the event, Minghui School teachers and students performed waist drums to add to the festive atmosphere. Then they demonstrated the Falun Gong exercises. Many audience members and staff imitated their movements. The ribbon dance was next, and young practitioners performed to the beautiful music. The audience applauded with enthusiasm, and the host complimented them on a wonderful performance. He hoped to see these lovely children at an even larger festival at the end of June.
One spectator commented on how lovely the children were and regretted not bringing along her grandson and granddaughter. She asked when the young practitioners would perform again, as she would definitely bring her grandchildren to come see them.