Human Rights Torch Lit in Israel (Photos)
February 23, 2008 | By an Israeli Practitioner
(Clearwisdom.net) The Human Rights Torch, on its journey through five continents, was lit February 18, 2008, in Tel Aviv.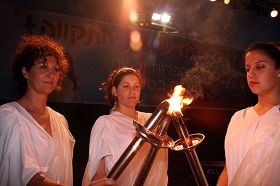 The Human Rights Torch lit in Israel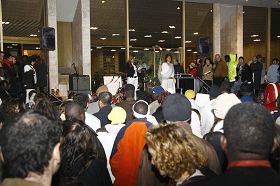 Rally venue
According to the weather forecast, it was to be a cold, stormy day, but surprisingly, the weather that day was fairly clear, so all planned events went on as planned. Yet, in the middle of the rally in the evening it started to rain. Surprisingly enough, the approximately 300 people who came to support were not intimidated and did not leave. Some of them opened umbrellas and some stood in the rain to listen to the facts about the persecution of Falun Gong, about the organ harvesting atrocities, and how the CCP supports terrorist regimes and genocide.
Public attend rally in the rain
Former Canadian Secretary of State (Asia Pacific) David Kilgour, who was a central speaker at the rally, said: "Following our independent investigation last year, David Matas and I were terrified at the conclusion that since the end of 2000 the Chinese government and it subsidiaries murdered thousands of Falun Gong practitioners without conducting a legal trial. Then their vital organs were sold for large sums of money."
Kilgour and Matas published the "Bloody Harvest" report. It contains evidence of the genocide of Falun Gong practitioners in China, and of CCP propaganda defaming practitioners and presenting them as less than human.
Religious clergies and leaders sign a treaty calling to put an immediate stop to crimes against humanity in China
Religious leaders arrived from distant parts of Israel, bringing a message of brotherhood and mutual respect. They recited verses from scriptures emphasizing that all men were created in the image of god. One verse stated that not protesting a murder was practically equal to being an accomplice. Many of the religious leaders knew each other, having participated in the past in similar events. They came here to sign a treaty calling to put an immediate stop to crimes against humanity in China.
Representatives of refugees from Burma, Tibet and Darfur - countries victim to the CCP's cruelty - also came to support and sign the treaty. A large group of Darfur refugees carried banners protesting China's involvement in the genocide in Darfur.
Billy Beserglick, whose parents are Holocaust survivors, hosted the event
Billy Beserglick, whose parents are Holocaust survivors, hosted the event. She said that if during the Holocaust many people had stood up, calling for freedom of faith and speech, then maybe her grandparents would be alive today.
Dr Yaacov J. Lavi, a prominent Israeli heart-surgeon, said he was terrified to hear that one of his patients who applied for a heart transplant in China was scheduled to undergo the operation within a week of his application. This can only be done, said Dr Lavi, if the death of the "donor" is predicted a week in advance. Dr Lavi discovered that there are many people traveling to China under similar circumstances. He then set out to influence Israeli medical institutions to stop using public funds to pay for organ transplants in China. Eventually they stopped doing it.
Dr Yaacov J. Lavi, a prominent Israeli heart-surgeon
Hadas Shaknai, Chair of the Green Party, and member of Tel Aviv's City Council said: "Standing on this podium, I am calling the government of Israel, who is sending a delegation of athletes to the Beijing Olympics, to demand the Chinese government to immediately stop persecuting innocent people. I hope that this rally and the Torch Relay will bring public figures, men of letters, and politicians, at least in Israel, to join my plea."
"I came here to shout that there is a Disaster going on" declared the Israeli actress Sarit Vino-Elad from the podium. "We need to act against it!"
"No nation has declared so far it cuts diplomatic or financial ties with China. But why we did not do it, weren't we the people to declare 'no more'? Every time someone denies the holocaust had not happened we are appalled. But if you ask me, not to forget means actually not to let it happen again."
The Torch Relay events allowed us to expose the evil nature of the CCP and the true facts to numerous people in Israel. The visit of David Kilgour and Jennifer Zeng was covered by the national TV, Channel 8 (documentary), and in Haaretz, one of the three largest newspapers in Israel. The torch relay and rally gained cover from quite many media outlets.