(Clearwisdom.net) "I was deeply moved by the show tonight!" said Zhong Weiguang, a Chinese scholar in Germany, to a reporter immediately after seeing the first Divine Performing Arts Chinese Spectacular show in Europe.
(Clearwisdom.net) On February 6, the Divine Performing Arts presented the 10th show of the Chinese New Year Splendor and celebrated New Year's eve with people from all walks of life and different cultural backgrounds. On this particular evening, Mr. Chen Pokong, a well known economist, current affairs commentator, and writer was in the audience. He spoke highly of the show for promoting the bright spirit and kindness of humanity and denouncing the darkness and persecution. He said the show presented traditional Chinese culture through beautiful and splendid performing arts, and portrayed the real, unyielding spirit of the Chinese people.
(Clearwisdom.net) On the evening of February 16, 2008, the Divine Performing Arts held its first Chinese Spectacular show in Frankfurt, Germany. Ms. Zhang Jie, from China, said, "I could not see such a performance in China. Most shows in China are commercial. The pure culture shown in tonight's performance is not found there."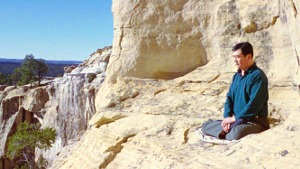 Master Li quietly watching the world from amidst the mountains after leaving New York following July 20th, 1999. (Published January 19, 2000)