New York Chinese: An Opportunity for Our Children to Experience Traditional Culture (Photo)
(Clearwisdom.net) The 11-day run of the Chinese New Year Splendor at Radio City that ended on February 9 has brought joy and newfound appreciation for traditional Chinese culture, complete with intricate nuances and fascinating anecdotes.
Mr. Shi, a Chinese immigrant, said that the show faithfully presented traditional Chinese culture. "The show integrated cultural connotations with artistic presentations that were both insightful and splendid," said Shi, who brought his son to experience Chinese culture.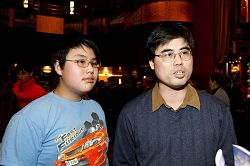 Mr. Shi brought his son to experience authentic Chinese culture
Both Mr. Shi and his son told the reporter that they enjoyed all the numbers. In particular, they said that the drummers were very exciting, very masculine. Mr. Shi emphasized that he appreciated the "Myth and Legends" theme of the show and hoped that there would be more shows of this kind.
Ms. Zhang is a doctor and lives in New Jersey. She came to the show with her husband and two sons. She said that she wanted to their children to have more exposure to Chinese culture. She said that the dance "The Loyalty of Yue Fei" was very good and their children were very interested in learning the story of Yue Fei. "We liked the drummers and the two MCs are excellent," Ms. Zhang said.
Ms. Wang came with her son at the recommendation of her son's teacher. During the intermission, her son said that he liked all the numbers. Ms. Wang said that "Creation" impressed her the most.
Like many other parents, Ms. Dai brought her children to experience Chinese culture. "They grow up in the US and have limited exposure to Chinese culture. I am very glad to have this opportunity for them to experience our culture and remind them that they are Chinese."