Psychologist Gives the Divine Performing Arts the Highest Praise (Photo)
February 13, 2008 | By Cheng De in New York
(Clearwisdom.net) Dr. Dorothy Susskind is a psychologist and retired professor from Hunter College. Dr. Susskind came from New Jersey with the help of her assistant on February 7, 2008, to New York's famed Radio City Music Hall for the 2008 Chinese New Year Splendor show.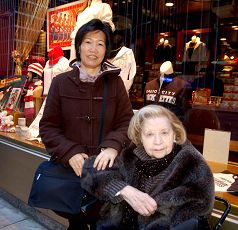 Dr. Dorothy Susskind (right) and her assistant (left) attended the Chinese New Year Splendor
Dr. Susskind said that the performance was both peaceful and beautiful. She thought that the stage background was spectacular and gorgeous. She said that the performance portrayed the importance of being peaceful and that people should live in harmony and care for each other. Dr. Susskind also attended the Chinese New Year Spectacular last year.
She especially enjoyed the vocalists. She said, "Every song's lyrics carried a good message. They were inspirational and uplifting."
Dr. Susskind enjoys traveling and has read a great deal about China. She hopes that the people in China--and everybody in the world--will be able to enjoy freedom just as people here can. She had high praise for Divine Performing Arts. She said that it was excellent and that she would bring her three daughters to see the show next year.