A Wonderful Experience on Chinese New Year's Eve (Photo)
February 13, 2008 | By Minghui correspondents Zhou Rong and Su Qing reporting from New York
(Clearwisdom.net) The ninth performance of the Chinese New Year Splendor brought joy to the people of New York on February 6, 2008, Chinese New Year's Eve.
Word about the Show Spreads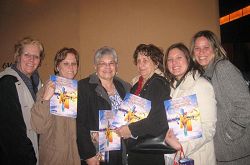 Joanne and five members of her family at the Chinese New Year Splendor

Back in December, when Joanne saw the Holiday Wonders presented by the Divine Performing Arts at the Beacon Theatre, she learned about the Chinese New Year Splendor. She immediately told her relatives to get tickets. Six people, including Joanne, her mother, three aunts, and a cousin came to the Splendor. They said the performance was very meaningful, with gorgeous costumes and magnificent backdrops--everything was perfect.
Marie Rotter, a retired advertising agent from Queens attended the show with Colin Aiguellor. They learned about the Splendor in Chinatown. Ms. Rotter said, "The costumes are fantastic, the dancers are so precise and unbelievably great, very light on their feet, very agile. It's the first time for us to see this show. We didn't know what to expect, but [it turned out to be] very good, very good." She asked whether the show would return next year and was very pleased when the reporter said yes.
Ms. Rotter said her son-in-law, now living in upstate New York, was from Beijing. She said she would recommend it to him and her daughter because they were sure to love it.
Mr. Aiguellor said, "It was very different from other shows. I loved their costumes and how the dancers performed together. The scenery was amazing." He congratulated the Divine Performing Arts for bringing such a wonderful experience to New York.
"It was great! I didn't expect to have such a good time," affirmed Ms. Rotter.