New York City: Final Splendor Shows Play to a Full House (Photos)
(Clearwisdom.net) On February 9, the Divine Performing Arts presented its last two shows of a 15-show run at a packed Radio City Music Hall. The exquisite performance received thunderous applause and acclamation from the spectators.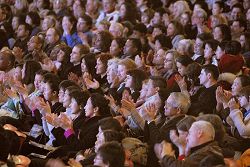 The final two shows of the Splendor played to a full house in Radio City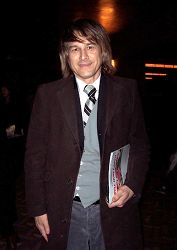 George Lesko, an official from the Township of Franklin, New Jersey, enjoyed the show and appreciated the positive values that were portrayed
Falag Mohammed is a diplomat from Libya. This was the first time he had ever seen a presentation of Chinese culture. He said that he knew little about Chinese culture but thought the numbers were fantastic and he enjoyed the show.
Vaughan Toney is the president of a non-profit organization based in New York. He said, "I appreciate the show and am also very thankful [to have been able to see it]."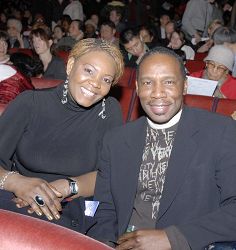 St. Vincent and The Grenadines consul Eleen Ackie (Left) and NGO president Vaughan Toney enjoyed the show
Mr. Toney was very interested in the dancing, noting it was different from ballet. He thought the show was very rich in color and the movements were very beautiful. "I also like the stories conveyed by the lyrics of the songs and the backdrop."
St. Vincent and The Grenadines consul Eleen Ackie was very impressed by the resounding voice of Tenor Hong Ming. "His song was very good and I was really touched," she said. "Although there are differences in our cultures, such as the presentation might be different, we have many things in common. I have really enjoyed the show so far and can't wait to see the last half."
Mr. Toney added that the positive values that were displayed in the show were very important. "The show portrayed some universal values, sending very positive messages. For example, one number told us that one should try to be a better man and everyone can achieve that. I like this."'
Anthony Sciotto has been working with the local newspaper News Day for 40 years. In his opinion, the show was fantastic, very touching, and inspiring.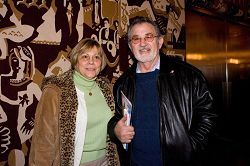 Anthony Sciotto and his wife enjoyed the show
Mr. Sciotto noted that there were several legends such as "The Lady of the Moon," which portrayed the courage to safeguard world peace, and they touched him deeply.
"The show is absolutely beautiful. The performances and the backdrops matched perfectly. It was so fascinating."
Science teacher Joanne Werner said that she came without a clear expectation because she had just learned about the show from a TV ad. "It is just gorgeous. Everything was beautiful," she exclaimed.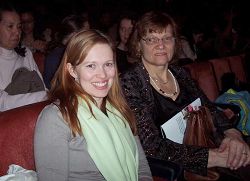 Joanne Werner (left) and Elfrieze
Elfrieze is a financial specialist She said, "The choreography was very unique, precise, and beautiful. The dancing was gorgeous, the colors were dazzling, and the backdrop was great."
Referring to the legends presented in the show, Elsrieze said that such beautiful Chinese history is worth learning about.