New York: Grand Premiere of Chinese New York Splendor Displays Divine Culture (Photos)
(Clearwisdom.net) Divine Performing Arts (DPA) on Tour and DPA of New York jointly presented the first performance of the Chinese New Year Splendor in Radio City Music Hall on January 30, 2008. The show displayed the divine culture of China in the Big Apple.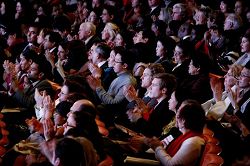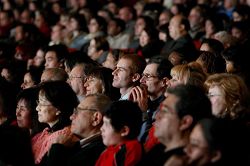 On the huge stage at Radio City Music Hall, the show, which included classic Chinese dance, songs, a live orchestra and a huge animated backdrop, won warm applause and cheers from the audience.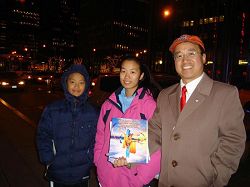 Professor Gao of Kean University, his daughter and son
Professor Gao, from the chemistry department of Kean University, took his son and daughter to see the show. He said that he better understood the concept of divine culture after watching the show. He said with excitement, "It was definitely worth it! It was good for my two kids. It was better than I expected."
Professor Gao said that people called China the divine land, but he didn't think that "divine" was truly divine until he gained some understandings about it from watching the DPA show. The 5000-year history of China presented in the show helped him grasp the true existence of the divine.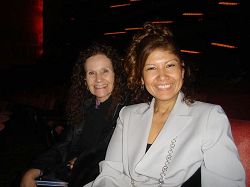 Ivi Navarrete and co-worker
Ivi Navarrete, President of Epiphany Design, attended the show with the company's vice president. They are proud to be sponsors of DPA. They became aware of the show two years ago, but said that now it has grown bigger and toured around the world. They could see the harmony in the dance movements and the deep meanings in the performances.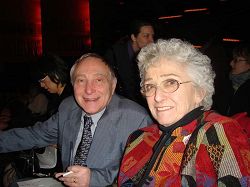 Writer Mr. Simon Saltzman and his wife
Mr. Simon Saltzman, a media writer in New York, said that it was a very exciting and gorgeous show, and that it was incredible to see so many artists on one stage. He said he liked the inspiration of the show and the dancing, and he found the lyrics to be thought-provoking. Mrs. Saltzman said the CCP had destroyed the values and art of the Chinese culture. Many who grew up in China might not have realized that Chinese dance could be so wonderful.
Marion, a psychotherapist, said the most touching program was the one about Falun Gong. It showed the audience how Chinese police beat Falun Gong practitioners. It was the fourth time Marion had attended the Chinese New Year show, and she said that it became better and better each year. She thought that everyone in New York should watch the show and have this unique experience, especially young people.
The Chinese New Year Splendor will present fourteen more shows, ending on February 9, 2008. The two DPA groups will then separate and tour to more than sixty cities in Europe, Asia and Australia, and perform more than two hundred shows. More than six hundred thousand people will have the opportunity to see the show.