Heard at the San Diego DPA Performance: 'Something everyone should see' (Photos)
(Clearwisdom.net) Friends Winnie and Eloise, along with their husbands, attended the Divine Performing Arts (DPA) International Company's performance at the San Diego Civic Theater on Saturday evening Dec. 27.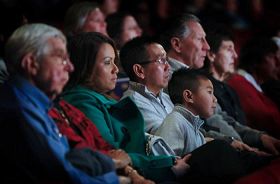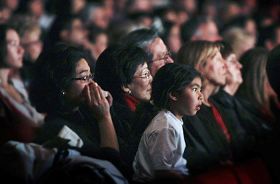 Friends Winnie and Eloise at the Civic Theater
The ladies were most enchanted by what they saw and heard.

Eloise, a retired dance teacher, said, "Oh it's beautiful, it's such a ... wonderful presentation of art and music and also the stories behind the movements."

When asked which was her favorite performance, she replied, "Oh they're all so good, it's so hard to ... yeah it's really hard. The ladies are gorgeously beautiful dancers, so talented and the story, I appreciated the story of course."

From the perspective of a dance teacher, Eloise shared thoughts on their training. She said, "Oh I think they are so well trained. It appears that they start from a very young age in order to reach that ability, and the strength and the grace and beauty of all of their movements, I think it's just amazing ... Obviously they've had a lot of outstanding training and it's remarkable."

"I think the Chinese are a little more polished when it comes to telling a story and ... about the actual conditions of their history and their lives and their background, and it's just amazing how well they expressed it without saying a word."

Winnie, a psychologist, was born in China and has lived in America since 1956. She appreciated the stories told with the movements and the meanings behind the dance and said, "I thought it was outstanding, they're all so talented and they move so fluently and beautifully ... and to be able to express their ideas and stories through movement without ... non verbally ... it was just amazing how well they are doing it, I enjoyed it immensely."

"I guess the movement of course teaches ... benevolence, kindness and there are rewards despite difficult times. At least that's one of the stories, the one that was just before the last. Very moving. I mean we hear about [Falun Gong] on the news."