Overseas Chinese: "Peak of Perfection!" (Photo)
December 30, 2008 | By Minghui correspondent Shen Rong
(Clearwisdom.net) The Chinese New Year Spectacular by Divine Performing Arts (DPA) Touring Company received enthusiastic feedback from the audience at the Times-Union Performing Arts Center in Jacksonville, Florida, on December 26, 2008. The show made a lively and splendid presentation of the best of the five-thousand-year-old Chinese culture through a refreshing perspective, a combination of Eastern and Western music and unique classic dance. Overseas Chinese and Chinese American audience members were touched and carried away.
David Chang, originally from China, is an engineer at JEA. He took his sixteen-year-old son James and his friend Henry Xie to see the DPA show.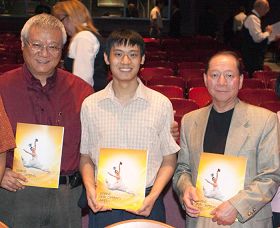 (From left) David Chang, James and Henry Xie
James is a member of a youth band in Jacksonville. He started playing violin when he was five. He was amazed at the perfect combination of Chinese and the Western music in the DPA show. He said the traditional Chinese music and the Western music have different characteristics, and that it was wise to combine the best of Eastern and the Western music because the combination makes the Eastern music more expressive, and makes it easier for the Western audience to understand the Eastern music and China. He said, "We all know a lot of Western music technique is used in movies to create different effects. This show also used a lot of dramatic techniques. To make dramas more expressive, the power of the Western music must be used...I really appreciate the idea of the combination."
Having played violin for years, James paid special attention to the violin playing in the show. He said the accuracy and smoothness of the violin playing was as pleasing as tasting chocolate.
Mr. Chang expressed his admiration of the music composers. He said, "The music was so pleasant! The composers must have put their hearts in it to create such an effect. The enthusiasm and feeling of the Eastern music blended into the variety of the Western music and created a brand new style for the Eastern music. The effect has reached the peak of perfection. It was absolutely wonderful!"
Mr. Xie also praised, "The show truly presented the word 'Divine.'"
When asked which piece left them with the deepest impression, both Mr. Chang and Mr. Xie said in one voice, "Persecuted on a Sacred Path." Mr. Xie said, "The three words 'Truthfulness-Compassion-Forbearance' were projected on the background tonight. The show truly expressed them." Mr. Chang also said, "I was very touched by 'Truthfulness-Compassion-Forbearance!' The program with 'Truthfulness-Compassion-Forbearance' as background was very influential and very touching."