New Zealand: Maori Chief Appeals to Supreme Court for Falun Gong (Photo)
December 03, 2008 | By a Falun Gong practitioner in New Zealand
(Clearwisdom.net) Santa Claus Parade organizer Michael Barnett, a top official with the Auckland Chamber of Commerce, denied the Falun Gong application to enter the Christmas parade. Sources report that this was done to help maintain positive business relations with China. On December 1, 2008, Maori Chief Mr. Amato Akarana submitted a petition to the New Zealand Supreme Court asking it to try the case from a human rights violation perspective.
Mr. Akarana pointed out that Christmas parades are a platform to celebrate all races, cultures and traditions and Barnett should not have denied Falun Gong's application to participate in the parade in order to keep the city's close relation with Beijing.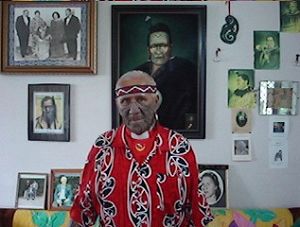 Maori Chief Mr. Amato Akarana
Akarana believed that the decision made by Chief Justice Tony Randerson of the High Court on November 27 was unjust. ".. it is not appropriate for the Christmas Parade to provide a platform for (Falun Gong's) protests," said Randerson to the court. Akarana said, "Falun Gong practitioners are experiencing tribulations and it is my moral responsibility and obligation to help them the best I can."
Akarana continued, "Justice will eventually win the battle against evil and Falun Gong practitioners will win. Michael Barnett must apologize to the practitioners openly."
A Falun Gong spokesperson said, "The Auckland Santa Parade organizer has been denying the application of Falun Gong for the past seven years using various reasons. Outside Auckland, Falun Gong participated in other Christmas parades in New Zealand including the one in the capital city of Wellington. Falun Gong has many times win awards from other Christmas parades. We can understand that the Chamber of Commerce which organizes the parade wants to have close business relation with China. However we hope the Chamber does not give up its conscience and universal values for profits."