Florida Audience: DPA Show Full of Inspiration and Grace (Photos)
December 28, 2008 | By Zheng Yuyan
(Clearwisdom.net) Divine Performing Arts Touring Company (DPA) staged a show at the Times-Union Center For The Performing Arts, Jacksonville, Florida on the evening of December 26, 2008. This was the third stop for the company in their 2009 World Tour. The audience praised the show as "full of inspiration and grace."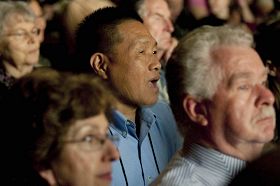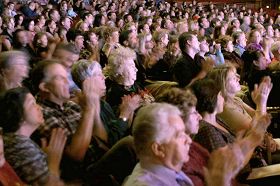 Audience takes in the performance
Each detail narrates a story
Professional photographer Mark Samon takes photos of scenery and weddings and has lived for more than 40 years in Jacksonville. He is interested in Chinese art and studied Chinese for three years when he was an undergraduate student. He knows a little about Chinese culture and also studied Martial arts. Mr. Samon said, "I have seen Chinese performances like the dragon dance. But this is the first time for me to see such a performance today."
Mr. Samon said that each gesture and detail narrated a story with deep connotations, such as the importance of the Udumbara's Bloom. The colorful costumes, classical music and musical instruments, and high-tech backdrops successfully merged traditional Chinese culture and Western culture. The reaction of the audience was warm.
The photographer admired the backdrops. He said that the backdrops helped give deeper meaning to each story, and were an important part of each dance performance.
The performance is brilliant
Todd Moses Logsdon works in flight management. He came to the show after he saw an advertisement in a magazine. He exclaimed after watching the show, "Elegant! Brilliant! The performance is brilliant! I am very happy!" He said he liked the drum playing, adding that moved him greatly. The grand momentum, even the order of striking the drums, and delicate choreography all seemed to have deep inner meaning.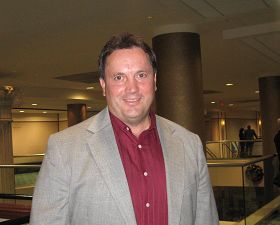 Todd Moses Logsdon, "Elegant! Brilliant!"
Beautiful, I hope DPA comes back to Jacksonville
Ms. Willis from Washington DC said it was an outstanding show. She said she was surprised that DPA could come to small cities like Jacksonville. She loves Asia and Asian cultures. She said she hopes that DPA will come back to perform again.
Teacher Ms. Day praised the show and said it was full of inspiration. She said the music was splendid.
This was the last DPA performance in Florida after playing in Fort Lauderdale and Sarasota. The company will move to its next stop in North Carolina. Ticket information can be found at http://divineperformingarts.org.