San Diego, California: A Wonderful Christmas Gift (Photos)
December 28, 2008 | By Lu Zhenyan
(Clearwisdom.net) Divine Performing Arts International Company (DPA) played at the San Diego Civic Theater in San Diego, California on the evening of December 26, 2008, its premiere West Coast performance for this season's world tour. Audience members had high praise for the show.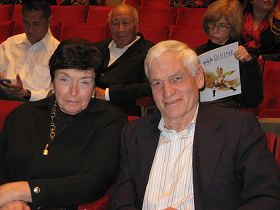 Ron Voigt and his wife attended the DPA show at the San Diego Civic Theater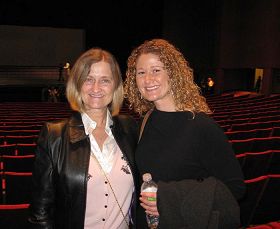 Deborah Waggoner and her daughter Marissa at the DPA show in San Diego
Ron Voigt is a realtor in San Diego. He brought his wife Elizabeth to the DPA show as his Christmas present to her. "It's a really wonderful Christmas gift! It is the first time that I experienced this aspect of Chinese culture. I really liked the dances," said Ms. Voigt.
Mr. Voigt commended the show, "I appreciate the show very much. The costumes are fantastic, and the backdrops are so well operated. It is such high quality dancing." He said that the show helped him gain a deeper understanding of Chinese culture. "The dancing is impressive, and the music is soothing. The two singers' voices are terrific."
Deborah Waggoner is a financial analyst. She brought her daughter Marissa to the December 26 performance of the DPA show. Marissa, the head of a publishing company, had high praise for the show. "Wonderful! The costumes are beautiful, and the dances are beautiful. The introduction before each number was amazing." She said that she had been to Hong Kong, but, "this is different, the costumes are more exquisite." She particularly liked the dance, "The Monkey King Triumphs," saying she found the story very engaging.
Marissa commented that Chinese dance is more fluid than ballet. Her mother agreed and added, "Our western dance movements are precise and strict, while in this (Chinese dance), the movements are also precise, but more fluid and smooth. Really beautiful and impressive."