Pennsylvania, USA: Falun Gong Invited to an Old Fashioned Christmas Parade in West Chester (Photos)
December 12, 2008 | By a practitioner from Delaware, USA
(Clearwisdom.net) On Friday evening December 5, 2008, the Falun Gong waist drum team from Washington, DC, and practitioners from Delaware were invited to the Annual Christmas Parade in West Chester, PA. The surprised local residents responded warmly to their performance.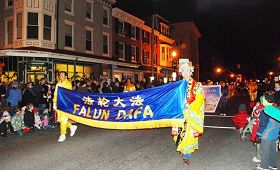 Falun Gong was invited to the West Chester Christmas Parade in Pennsylvania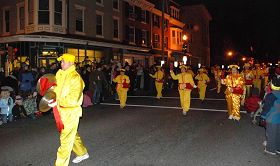 Falun Gong waist drum team in the West Chester Christmas Parade
West Chester is a city of about 20,000, 25 miles west of Philadelphia. Most of the people here are very traditional. This year was the 29th annual parade and it was called "The 29th Old Fashioned Christmas Parade." The parade featured many traditional Christmas legends.
It was a cold night, but the spectators were very enthusiastic. Families lined up along the streets early. The Falun Gong procession was the only group representing Asian culture. When the waist drum team marched down the street accompanied by the music of "Falun Dafa Is Great," people cheered and applauded. Falun Gong brought to West Chester information about the practice as well as the Divine Performing Arts' show to be held in Philadelphia. Some said this was the first time they had ever heard about DPA. Others said they had already received information about the show. Many said it was very beautiful, and they would not miss it.
The parade ended after the ceremony of the lighting of the Christmas tree.