Finding the Path That Leads Back Home (Photo)
(Clearwisdom.net) After she finished college, Ms. Zhou Liangjun, who lived in Keelung, Taiwan, went to Australia to study English. While in Australia, she received a flyer about Falun Gong and wanted to learn more about it. However, after she returned to Taiwan in 1999, she was occupied with settling down and starting her career, so she didn't have any time to learn Falun Gong.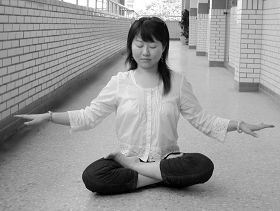 Zhou Liangjun practicing the fifth exercise
Ms. Zhou's job required her to work 12-14 hours a day. After several years, she was established in her career, but her body was sending her warning signals. An internal hematoma, caused by a car accident she was in during college, started to cause problems, and muscle atrophy from the fibrosis in her leg muscles had led to an imbalance between the left and right sides of her body. A physical examination showed a fibrocyst in her chest, which had the potential to become cancerous.
Eventually, she became an English teacher at Wenshan Community College in Taipei City and sought relief from her health problems through qigong practice.
Her colleagues at the community college were kind and considerate. She soon became friends with another teacher, Ms Chen Yiwen. When this colleague told Liangjun that she was a Falun Gong practitioner, Liangjun wanted to learn the practice. Yiwen loaned one Dafa book after another to Liangjun, who cherished each one and carried them with her every day so that she could read during her breaks. She started to learn the five Falun Gong exercises. Liangjun has now been practicing Dafa for two years and has recovered from all her diseases―she now feels light and cheerful.
A child in the dark turns into a model student
Zhou Liangjun followed the principles of Truth-Compassion-Forbearance when she taught her students and used the English instructional program to teach morality to the collegel students from low-income families. Initially, it was very hard, but she used the wisdom that Dafa gave to her to get along with these students. She shared two events that left a deep impression on her.
One middle-school student was very rebellious and caused a lot of problems for his family. Ms. Zhou often shared short stories with him that demonstrated the principle of Truth-Compassion-Forbearance and also loaned the students her Dafa books. One day, he told her, "Teacher, I often need to sharpen my knife." When she asked why, the student answered, "Teacher, didn't you teach me to be tolerant? So when someone bullies me, I use my knife to cut into a desk so that I can relieve my anger and be tolerant." Ms. Zhou then explained to him that, while it is good to be tolerant, from another angle, if the desk has life, won't it also feel pain? "Then aren't you bullying the desk? By doing this, you will give some of your virtue to it." They had a laugh about this and soon the student was no longer using his knife to carve things up, and he became genuinely tolerant of others. She told him, "You participate in Judo competitions and, to a certain extent, you are a practitioner of martial arts. Practitioners of martial arts can easily develop the attachment of competitiveness. If this attachment is not removed, you will be challenged over and over again." The student seemed to enlighten to something, and after that his parents no longer complained about him. He helps his mother with the housework and has become the most obedient child in the family. He also participates in sports now that he is in senior high school.
Another student had been interested in pyramids since he was a youngster. Zhou Liangjun told the student what Master taught us about pyramids in a Fa lecture. The student found the information very interesting. She also shared many stories about Truth-Compassion-Forbearance with him and loaned him her Dafa books. This student used to be lazy and slow but called her right after he finished reading Zhuan Falun. He said, "Teacher, I regret that I took so long to finish reading this book."
Now he is in the third year of senior high school and attends a Falun Gong study group for young people, practices the exercises, studies Dafa books, and shares experiences with other practitioners. He has begun to genuinely practice cultivation. A few days ago, he said to Zhou Liangjun that he felt very energetic and didn't feel sleepy even late in the evening. He gets up in the morning to study the Fa. One day, when he read the sentence "make the best use of his or her time for genuine cultivation practice," the words seemed to rise from the page. Both he and Liangjun knew that this was a hint and encouragement from Master.
All these small incidents have helped Zhou Liangjun deeply feel the wisdom that Dafa has given her on many occasions. Whenever she runs into a roadblock, she finds a solution after studying Dafa with a calm mind. She says, "Dafa changed my views on life, I have found a path to genuinely go back home, and I know what it means to truly cultivate. Dafa has given me a completely new life."
October 5, 2008