"I Like Falun Dafa!" (Photos)
(Clearwisdom.net) The annual American Royal Parade was held in downtown metropolitan area of Kansas City on Saturday, September 27, 2008. Misses Missouri surrounded the Falun Dafa float and said, "Falun Dafa is great!" They didn't leave until the parade was about to start. Before they returned to their procession, one of the girls said gravely, "I like Falun Dafa!"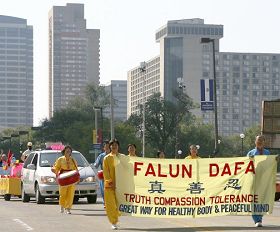 Parade procession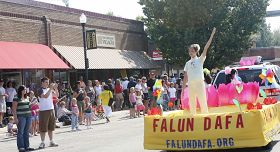 Parade procession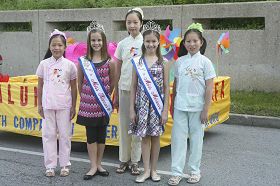 Two Misses Missouri take a picture with child Falun Dafa practitioners.
Residents of the community filled the streets along the winding parade route. Among the parade participants were many school bands. The Falun Gong procession looked refreshing. Their resounding music and drum troupe excited the spectators. The exercise demonstration by child practitioners made people feel calm and peaceful. Organizers on the stage kept praising the Falun Gong procession.
An hour after the parade, practitioners arrived at another town for the Overland Park Fall Festival Parade and spread the beauty of Falun Gong to more people.