Poland: Practitioners Speak to the Organization for Security and Cooperation In Europe Annual Meeting (Photos)
October 16, 2008 | By Western practitioners from Poland and Ukraine
Falun Gong practitioners took part in the annual Organization for Security and Co-operation in Europe (OSCE) Human Dimension Implementation Meeting, which took place in Warsaw, Poland from September 29 to October 10, 2008.

Government delegates and NGOs from 56 countries were involved in plenary meetings and side events. The conference focused on problems and practical measures that can be taken to address various human rights issues in member countries.

Participants had the opportunity to make speeches to the plenary meetings raising different human rights issues. The Polish Falun Dafa Association and the Falun Gong Followers Foundation (of Ukraine) were registered at the meetings. Polish and Ukrainian Falun Gong practitioners gave a total of five speeches raising the following issues: Eutelsat's cancellation of NTDTV broadcasts in Asia; Chinese Communist Party interference in domestic affairs in Europe; CCP control over the lives of Chinese immigrants in member countries, particularly Poland; the problems of Falun Gong practitioners from China face gaining refugee status in Ukraine; and the obstacles faced trying to establish a Falun Gong Association in Ukraine.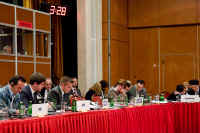 The moderators' panel at the OSCE Human Dimension Implementation Meeting in Warsaw. Fifty-six countries and many NGO's were represented.
A submission was also made about Falun Gong by the Polish Representative of the International Society for Human Rights, outlining recommendations about how member states can work to stop the forced organ harvesting from Falun Gong practitioners in China, and to stop their citizens from participating in organ tourism to China.

Their joint actions let representatives know about the continuing persecution in China and ongoing interference by the CCP in Europe, including the spread of propaganda and trying to influence domestic policy. Conference attendees had the additional opportunity to pick up materials exposing the truth about the persecution in China as well as talk to various Falun Gong representatives in between sessions.

Speech by the Polish Falun Dafa Association is available at
http://www.osce.org/conferences/hdim_2008.html?page=documents&author_id=756

Speech by the Falun Gong Followers Foundation (of Ukraine) is available at
http://www.osce.org/conferences/hdim_2008.html?page=documents&author_id=720

Speech by International Society for Human Rights is available at
http://www.osce.org/conferences/hdim_2008.html?page=documents&author_id=589